Get More out of your machine
Rovema Upgrades
When you first buy a vertical form fill and seal (VFFS) bagger it feels amazing. There is this machine pumping out bags faster than you ever imagined. With Rovema's robust design you can feel confident that your VFFS will continue to work hard for as long as you want it to. Over time the needs of the companies change and machines can start to feel a little outdated. Maybe new bag styles come out, products change, or other variables enter the environment which make your old VFFS seem like a thing of the past. Sometimes a new machine with the latest features and technology is needed but it can be difficult to get capital approved. Why not just upgrade the VFFS you have?
Here's a list of various upgrades that we have found to be common in our industry. Don't see what you're looking for? That doesn't mean we don't offer it! Just fill out the form to the right and we will get in contact with you shortly. anchor for Adjustment unit for Film Edge Control
Want more details? Click on the picture below to download the information sheet, or fill out the form to the right and let us know how we can help!
---
Adjustment Unit for Film Edge Control anchor for common upgrades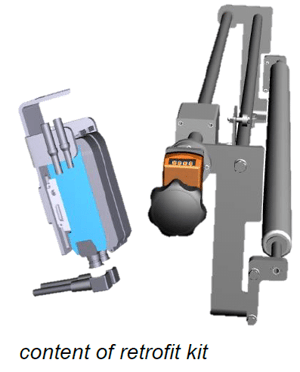 The film edge control is essential for a precise and trouble-free film run. It ensures that the film stays in its position and is sealed properly. However, experience shows that the adjustment of the light conductors is time-consuming and that now and then these parts break during format changes.
The new ROVEMA adjustment unit for the film edge control simplifies format changes, eliminates disturbance sources and saves unnecessary procurement costs for replacement parts. Thanks to the separate mounting and support, the fixing to the forming shoulder becomes redundant and the digital indicator optimizes and facilitates the adjustment.
---
Alignment Tool and Set of Toothed Belts for Cross Sealing Station
(for VPR/VPK/BVK Models)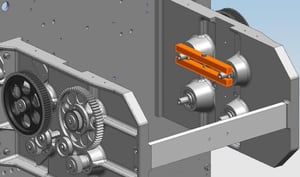 ROVEMA has developed the universally usable alignment tool as a useful aid for the machine types VPR 250, VPK 260 and BVK 260. It consists of two clamps, one for each side, for the fixation of the front and rear drive shaft. This avoids a shifting of the toothed belts during the fitting and tensioning process and optimally aligns the unit for the subsequent installation of the sealing tools. This provides a considerable saving of time during the alignment and helps to preventively avoid serious damage to the sealing tools caused by incorrectly adjusted belts.
---
Carton Supply for Cartoning Machines Type CMK and CMH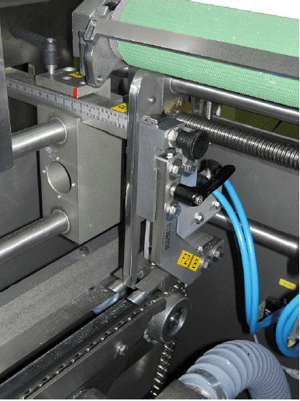 For the purpose of an increase in flexibility for your cartoning machines type CMK and CMH we would like to present the latest development concerning the area of carton supply and
separation.
---
Clutch for Film Drive of MVP/VPM Machines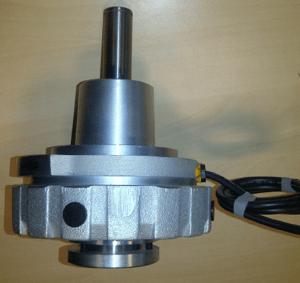 Based on experience we know that especially components of older machine types potentially involve a risk regarding delivery time (8-10 weeks) and availability. These components are produced in gradually decreasing batches at increasing cost, which considerably influences price stability. Against this background and due to the decrease in demand during the past years, we decided to cease the constant stockpiling of the clutch for the film drive of MVP/VPM machines (used up until approx. 20 years ago) after selling the current inventory.
---
Comfort Angle Film Feed Adjustment Unit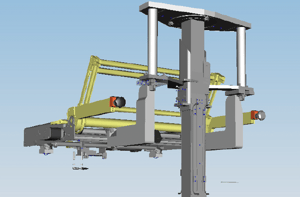 For an optimal transition of the film into the forming shoulder without creases and cracks the correct feeding angle of the film is important. This applies especially to demanding films. However, the fine tuning after format changes consumes time and labor due to limited access to the adjusting points at the machine.
With the comfort angle film feed adjustment unit, format changes and required fine tuning can be carried out much easier and faster. The adjusting wheels with gauges for the roller position and the inclination angle stick out, are therefore easily accessible and enable the reproducible adjustment of the unit in no time at all.
---
Double Drag Bar Sealing Jaws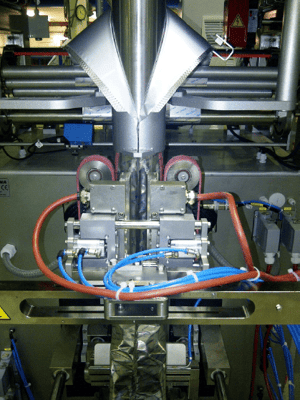 The new double-drag bar sealing jaws for the vertical closing of the bags are a lucrative and cost-reducing alternative to the conventional closing system with vertical sealing belt. A retrofit is possible for almost all continuously running machines by ROVEMA with a centered folding seal and offers you convincing
advantages regarding maintenance, upkeep and wear.
---
End of Life: BUM 60 Servo Converter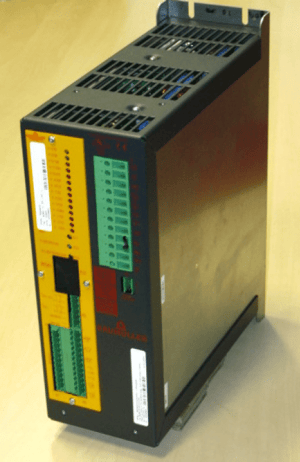 The analog working ac converter BUM 60 (04037459) has in former times been fit in ROVEMA packaging machines. Unfortunately our supplier has stopped the production of this component some years ago. Even though we have stored a lot of these converters our stock for the spare part supply is now used up. Due to intense negotiations the supplier is willing to produce this component a last time (EOL-order). We are glad that we are able to inform you today with this information sheet about this possibility and the alternative.
---
Frequency-Controlled Drive for the Stirring Device of the Auger Dosing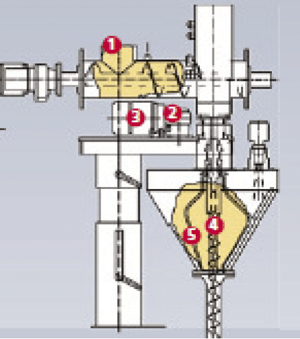 The "invisible" helpers for the auger dosing are diligently performing their tasks, unaware of their undiscovered potential. In case your auger dosing also contains just a stirring device with an inflexible drive without any possibility of adjustment, you now have the chance to optimize it.
We offer you a retrofit kit for a conversion of the stirring device to an adjustable drive with which you will be able to get the most out of your auger dosing – regardless of the age of your machine.
---
Height Adjustment Device for SBS Transport Bar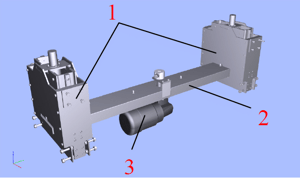 The ROVEMA SBS brick pack machines are famous for their precision and variety in the production of bag top forms. The standard height adjustment device for the SBS transport bar, which is responsible for the bag height or rather the product height inside the bag, is actuated by lifting columns.
With the flexible height adjustment device for the transport bar which can be adjusted at the push of a button, ROVEMA offers you a favorable alternative. Variations of the bag height or the product height inside the bag can be adjusted in a quick, uncomplicated and reproducible way by a comfortable operation via the machine display. Moreover, due to its robust and relatively simple design, the unit from ROVEMA's own production is hardly susceptible to faults as well as easy to maintain.
---
Ionization Unit for ROVEMA Form, Fill and Seal Machines and SBS Machines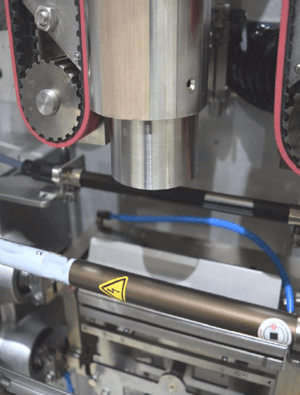 The film in form, fill and seal machines is subject to friction and sliding effects, which can lead to a high electrostatic charge. Besides composite films with metallized components or aluminium, this mainly affects films with a high portion of plastic, e.g. OPP, PP and PET. Especially with dusty and powdery products, this may cause a high degree of film contamination, which can impair the sealing procedure. Moreover, the product itself (e.g. rice) can generate static charge during the filling process and thus produce this negative effect even if a less critical film is used (e.g. PE).
With the retrofit of an ionizing unit, ROVEMA offers you the possibility to counteract the static charge. Electrode rods in different positions (forming shoulder, cross sealing jaws, SBS station) create an electric field, which considerably reduces the static charge in your form, fill and seal or SBS machine.
---
Lifting Devices for Forming Sets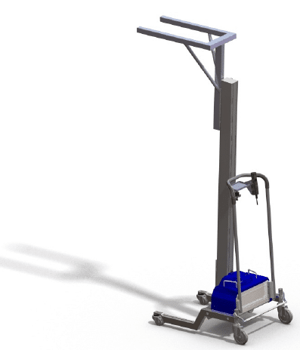 Set-up times for packaging machines are always an important topic.
Set-up should be fast, trouble-free and last but not least safe.
Time is money!
Minimize set-up times for your ROVEMA machine and increase safety for your staff with our ROVEMA lifting device for film reels and format sets.
---
Lifting Device for Film Rolls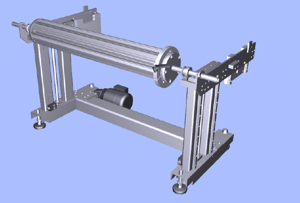 The creation of safe and ergonomic working conditions for operating and maintenance personnel is a declared goal of many companies worldwide.
The new lifting device for film rolls for your ROVEMA form, fill and seal machine is a helpful tool which considerably reduces both the accident risk as well as the health burden for your operating personnel. At the same time it shortens the set-up time for film roll changes. With this motor-driven device, heavy film rolls with a weight of sometimes more than 100 kg can be effortlessly lifted to their designated position in the reel carrier of the machine. The lifting device is especially suited for large-scale machines, film rolls with a diameter of 600 mm and heavy multilayered film types with metal content.
---
Maintenance Package for a Standard VPK260 Machine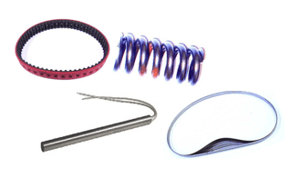 An essential determinant for a long operating life and a high productivity of your ROVEMA VPK260 machine is a constant supply with high-quality and original ROVEMA spare and
wear parts.
Therefore we have compiled a special VPK maintenance package. We highly recommend the stockage of these parts, so you will have direct access to the required parts when necessary.
By being able to immediately exchange particular spare- and wear parts, you won't have to
risk unplanned downtimes and loss of production.
---
Memory Space Upgrade to 1,000 Recipes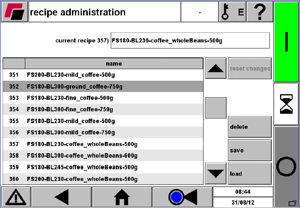 By now, due to its flexibility and ease of use, you are certainly positive about the operating system with touchscreen which has been used in our machines for more than 15 years. We would now like to present to you an upgrade with which you can increase the number of recipes from currently 100 to 1,000 memory spaces. The upgrade creates enough memory space for every product, thus even the smallest differences in filling or packing material can be saved individually. Manual adjustments
during changes of product or format due to a lack of memory space belong to the past. The selection of a recipe could optionally be carried out via scanning a bar code with a hand scanner. (only available for machines with P@ck-Control).
---
Pneumatic Film Reel Shaft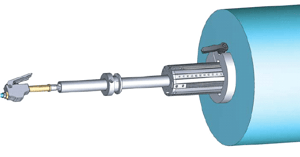 Topical time and time again: set-up times on packaging machines. Set-up is supposed to be fast, problem-free and last but not least safe.
Minimize set-up times and increase the ease of operation for
your operating personnel!
---
Power Unwind Device at Film Reel Support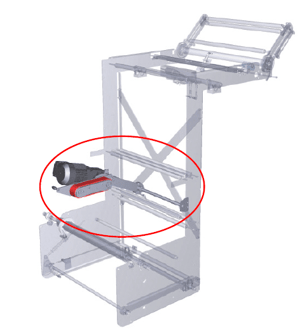 On its way from the film reel to a shaped bag the film often has to pass through a labyrinth of guide rollers and narrows. In order to avoid a strain of the film and the film draw down, ROVEMA offers you a retrofit kit for a motor-driven unwind device which enables you to effectively support the unwind of the film from the supply reel. The retrofit of the power unwind device replaces the previous brake device and ensures a smooth film transport for continuous as well as for intermittent machine types.
---
Protective Cover for Operator Display
The cover is suitable for all operator displays with a monitor, either mounted on a swivel arm or integrated into the control cabinet. It protects the surface of the display against accidental shocks during production as well as the direct water jet in case of a wet cleaning of the machine. Thus, the displays usually waterproof according to IP65 receive additional protection. Moreover, the risk of an unplanned machine stop is reduced.
---
Retrofit Kit for Sealing Belt Unit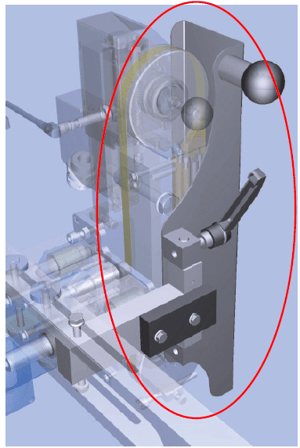 The functioning and safety of the vertical sealing belt unit at your continuous ROVEMA form, fill and seal machine can be significantly improved with a retrofit kit. The heat protection will avoid injuries during maintenance and set-up work caused by hot sealing areas. The adjusting unit facilitates the fine tuning of the position of the sealing belt unit by a mechanical stop and the kit for a conversion to grooved drive rolls and pulleys prevents the deflection of the sealing belt.
---
Retrofit Kit for Transport Belt Drive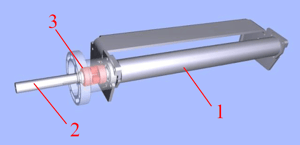 The transport belts of your ROVEMA packaging machine are of great importance for a reliable and efficient production. However, the bearings and the drive unit are subject to considerable wear. Moreover, an exchange of these components is always connected to a production stop and complicated installation work.
ROVEMA offers you a retrofit kit for the drive of the transport belt with which the operational life of the
bearings and the drive unit will be significantly prolonged. With our retrofit kit, existing parts like roller shaft
and drive shaft can be replaced and a coupling with adapter flange can be retrofitted. Convincing
advantages are an increased running smoothness of the drive unit, a gentle motion sequence as well as
less wear of the bearings and the drive unit.
---
Revolver Adjustment for Stabilo Seal® Device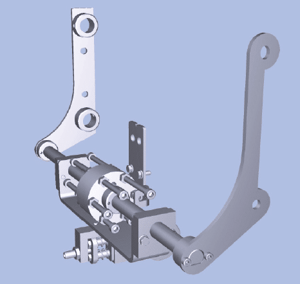 For quite some time one has been able to observe a trend in the market towards an increasing product diversity and constantly decreasing batches. This requires frequent, fast and precise format changes.
Adjustments and format changes are demanding and time-consuming, especially when it comes to Stabilo
Seal® bags. In this context our new adjusting aid for Stabilo Seal® devices offers you a lucrative saving of
time and ensures a high reproduction.
The ROVEMA revolver adjustment with up to 6 preset stop positions for Stabilo Seal® sealing jaws enables a fast and precise format adjustment at the Stabilo Seal®
tools. Thereby the system offers a considerable reduction of changeover time as well as a high reproduction.
---
Splice Table - Cutting- and Gluing Table for Form-, Fill- and Seal Machines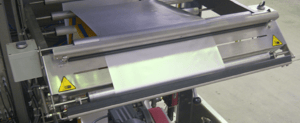 We would like to present to you our well-tried cutting- and gluing table application for the film infeed of your ROVEMA form-, fill- and seal machine – provided that it doesn't already exist on your ROVEMA machine.
The retrofit of the cutting- and gluing table offers you a time-saving and significantly easier cutting and gluing of the film. Furthermore, the table is equipped with additional functions like automatic locking of the film and machine stop when recognizing the film end, a film tear or other malfunctions of the film run in the reel carrier, which spares you a time-consuming re-threading of the film.
---
Stabilo Seal® in Reel Carrier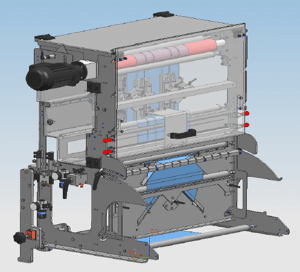 An innovative and visually appealing packaging shape attracts people's attention at the Point of Sale and supports the sale of your product. The Stabilo Seal® bag has established itself in the market as the premium packaging.
ROVEMA now offers you a retrofit kit with which you can equip the reel carrier in your continuous form, fill and seal machine with the Stabilo Seal® system. In contrast to Stabilo Seal®
at the tube, a heightening of the machine is not necessary, therefore especially fragile products can still be filled in a gentle way due to an unchanged drop height of the product. Moreover, the attractive Stabilo Seal® bag shape can be realized on your machine maintaining the bag cross section as well as the round forming set.
---
Stabilo Seal® Stand-Alone Unit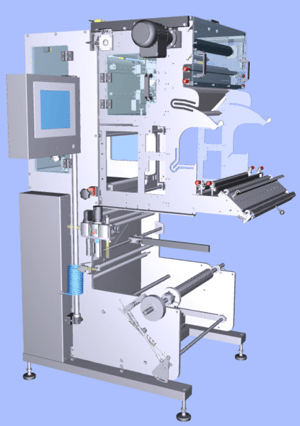 Every product can be additionally upgraded through the high-quality and innovative ROVEMA Stabilo Seal® and Ropack bags and, thanks to a visually appealing packaging, attracts customers' attention at the point of sale.
The new ROVEMA Stabilo Seal® stand-alone unit can be flexibly used with all continuous form, fill and seal machines for the production of premium bags. Thus the lucrative Stabilo Seal® or Ropack function no longer has to be retrofitted separately on every machine. The completely independent system can be
placed and operated as required behind form, fill and seal machines by ROVEMA or other manufacturers.
Moreover, the premium bag forms can usually be produced while maintaining the existing format sizes as well as the round or oval forming sets. Thanks to an unchanged machine height and drop height of the product, your possibly fragile product can still be filled and packed in a gentle way.
---
Swiveling Jaw Support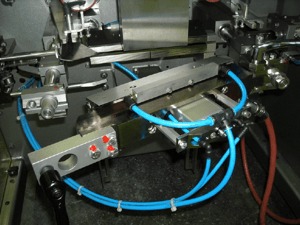 We would like to present to you a retrofit which significantly facilitates the handling of the cross seal unit of ROVEMA form, fill and seal machines type VPX, VPI and VPL. The swiveling support for the front cross sealing jaw allows for an improved access to the heart of the machine, be it for cleaning, regular maintenance or fault repair. Furthermore, this new device reduces the risk of injury caused by sealing tools with a temperature above 100°C. The slewing capacity of the front
sealing unit increases the ease of use and significantly reduces downtime.
---
Tempered Dosing Augers for ROVEMA Form, Fill and Seal Machines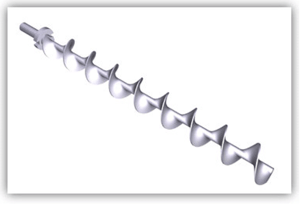 Due to the abrasiveness of the product to be packed, dosing augers are subject to constant wear. A worn auger leads to deviations in the dosing and weight accuracy and thus has to be exchanged regularly.
Thanks to innovative manufacturing methods and a new stainless steel alloy we can now offer you tempered dosing augers. This considerably prolongs the product life and thus also the change intervals of the auger. Moreover, the wear of the edges does not cause flow chip, which reduces the number of inspection intervals to a minimum.
---
Thermal Transfer Printer instead of Hot Embossing Device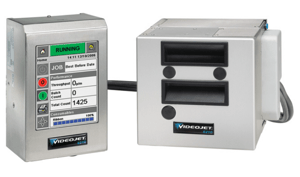 You are familiar with terms like "printing type" and "change of printing block"? If so, your ROVEMA form, fill and seal machine probably operates with a conventional hot embossing device. With the thermal transfer printer Videojet VJ6210, ROVEMA now offers you a modern and efficient alternative which minimizes maintenance costs and downtime while at the same time maximizes print quality and flexibility. With our retrofit kit your old hot embossing device can easily be replaced by a new thermal transfer printer.
---
Upgrade for Drive of ROVEMA VPI260 Machine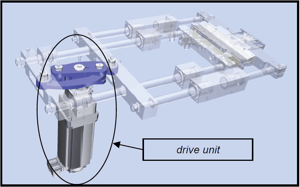 Time and time again technical innovations for new machines are developed. We would like to offer these also to our customers with older ROVEMA machines. One of them is our sophisticated package for VPI260 machines, consisting of a conversion kit for the drive unit and a corresponding software package, with which completely new possibilities regarding your VPI260 will open up to you. Product detection Sense & Seal®, increase of sealing power up to 6000N and Premium Seal® function are just some of the many advantages of this package.
---
Vacuum Closing System for Auger Doser
A compact and dust-free product filling is no longer an unsolvable task! With the new ROVEMA vacuum closing system for auger dosings, undreamt-of possibilities for the filling of powdery products will open up to you.
We offer you a retrofit kit with which you will be able to provide your ROVEMA auger dosing with a vacuum closing system. You will immediately benefit from the advantages of the system!
Product types like flour, milk powder and baby food already belong to our field-tested references.
---
Vibration Sensor System for ROVEMA Auger Dosings
We proudly present to you a patented and helpful innovation for our auger dosings which facilitates a reliable monitoring of abrasion and malfunctions of moveable parts (like auger or stirrer). The sensor system for vibration measurement at the auger dosing allows for an early detection of malfunctions
respectively atypical movements and vibrations. In addition, it reduces the risk of product contamination by metal abrasion.
---
Wear Part Kit for Vacuum Pump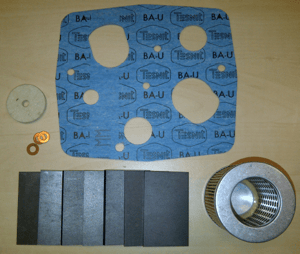 An essential determinant for a high productivity and a constant functioning of your ROVEMA packaging machine is a continuous supply with high-quality and original ROVEMA spare and wear parts. This applies especially to parts which are critical for production such as the vacuum pump, whose failure unavoidably leads to a breakdown of the complete machine.
Therefore, we have compiled a wear part kit especially for the vacuum pump so you will have direct access to the required parts if necessary and be able to immediately exchange them. This way you effectively prevent unplanned downtime and loss of production.
---
Need your manual?
Resource Center
Visit our resource center for other helpful materials including tech notes, training tips and general V/F/F/S information.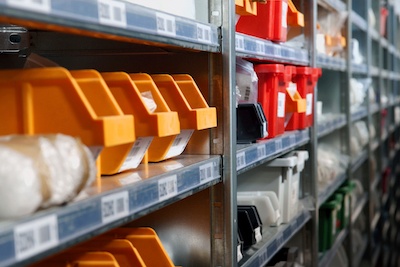 Replacement Parts
If your machine is still running, we'll still have the spare parts you need.
That's our simple commitment.
Occasionally electric/electronic components which we have sourced may become obsolete from the original manufacturer. In that case we work to develop retrofit solutions.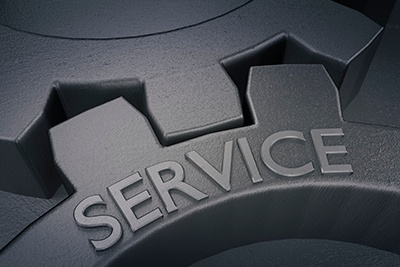 Technical Service
Whether you need field service or telephone support - the point is you need help.
Line design, commissioning, operator & maintenance training, preventative maintenance and break-fix are all requirements that we support with a staff from our Atlanta office.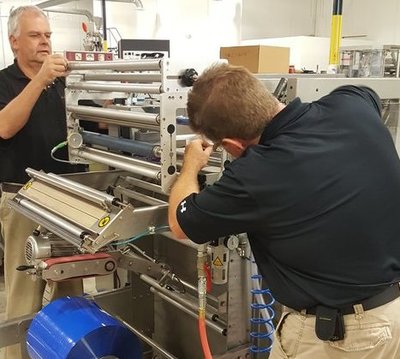 Retrofits, Upgrades & Rebuilds
Just when everything seemed to be running so smoothly....here comes a wild new requirement!
A key customer requires a new format; an old line is suddenly being asked to outperform. That's life in the demanding world we all face.
Often our team can suggest creative solutions to your requirements.