The big picture
Rovema is looking towards the future. That means working very carefully with available resources and protecting the environment in the process. Economic sustainability with our products is possible because of the use of our innovative technologies. These technologies enable us to use renewable packaging materials, reduce energy consumption and optimize packaging volumes. With an optimized package design for transportation, CO2 emissions can be subsequently reduced. Product quality must be protected especially for perishables and baby foods, durability and safety is our number one priority. Maintaining high quality after production, combined with modern and efficient packaging processes, drastically reduces product losses and saves packaging material resources.
Acting responsibly
To us, corporate responsibility is a social responsibility and not simply a matter of regulations and laws. We believe it is our duty to do more for employees. This is why we created several training programs as well as continuing education programs in cooperation with regional universities. To support our employees outside of work, we offer comprehensive health management services that ensure our employees can care for themselves and their families.
› Code of Conduct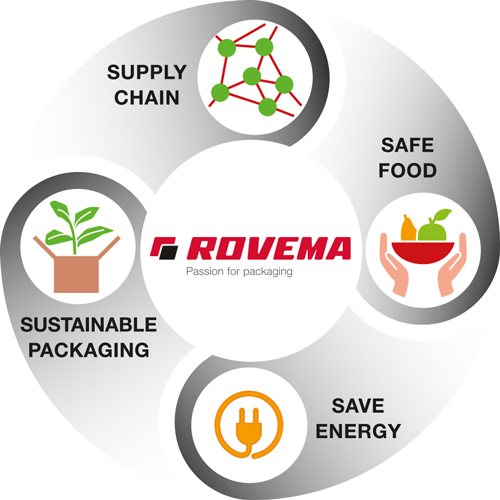 Supply Chain


Up to 15 % less packaging materials
Up to 8 % smaller package and transport volumes
Tight, dust-free packages
Attractive/compelling POS packaging

Sustainable Packaging


Biodegradable and compostable packaging materials
Paper as FSC certified packaging material
Savings in packaging materials through narrow seams and thinner films
Sealing of biopolymers

Safe Food


Longer shelf life
Opening aids and reclosure
Gentle packaging processes
Inspected airtight seal

Save Energy


Green technology:
- Efficient drives and low-loss transmissions
- Energy-optimized movements
- Reduced mass
- Energy recovery
Up to 35 % less air and power consumption
Sealing with up to 25 % less energy
Acting in modern times means taking responsibility for people and the environment.