From the forming shoulder to the forming tube.
Every component of your OEM forming set is perfectly engineered with your bagger and specifications in mind.
There's a lot that goes into the use of capital equipment and we get to see the results frequently. As your product flows from the processing stages, we see the scales timing drops perfectly to our vertical form fill and seal machines which are producing high-quality packages at some of the highest speeds in the industry.
To fresh eyes, it is a truly impressive sight to see- but to you, this is what you expect of your equipment and as leaders in our slice of the packaging industry, it's important that everything we manufacture is held to the same quality standard you need to maximize uptime and product quality.
Need to order a forming set for your ROVEMA bagger? Click here to submit the request to your support team.
Forming Sets: What they are and how they work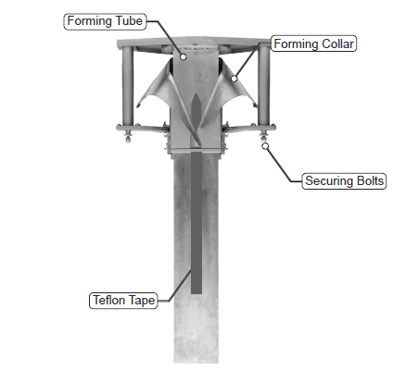 Forming sets are the heart of every vertical form fill and seal machine and has the most influence in the shaping of a bag. The forming set sets the stage for the film to be transformed from a 2-dimensional to 3-dimensional shape as the package goes through several sealing processes.
Forming sets are made of three primary components plus securing hardware. The primary components include:
Forming Tube: Where the product is guided and protected as it's dosed into the package.
Forming Collar: Where the film's trajectory is quickly but strategically changed in a way that puts the least amount of stress on the film.
Product Transfer: The end of the Filling tube where the product is transferred to the bag.
As the film weaves through the rollers of your vffs machine, it gets to the back of the forming collar where it travels up and breaks over the collar, starting its descent down the forming tube where the vertical seal is made. The film continues down over the product transfer chute where the bag is shaped and filled.
ROVEMA vs Non-OEM Forming Sets
As we've traveled the continent supporting customers like you, we've had to troubleshoot our fair share of quality issues when it comes to bags being produced, from graphics being off-center to wrinkles around or in the seals. These types of quality issues might be due to wear on the lapel of the collar or the angle of the forming shoulder being too steep causing the film to go straight to the cusp of the collar and wrinkle as it slides over and down the forming tube. Sometimes we even notice that the forming set is sitting awkwardly as though forced into position.
Since ROVEMA forming sets are made to the direct specification of the machine, these types of issues are clear indicators that non-OEM forming sets are being used and causing some of the problems you might see.
Like most spare parts, there are other companies that make forming sets for any vertical form fill and seal machine but odds are, these companies aren't familiar with the nuances of your machine and do not know about your machine's specifications. When you purchase an OEM forming set, we manufacture it with your needs in mind, without cutting corners, to ensure you are receiving the highest quality and longest useful life out of your forming set.
Our forming sets are built to the rigorous standards of our German engineering team at our headquarters in Fernwald, Germany. Using your equipment's historical documentation and machine parameters to ensure a precise streamlined fit, we minimize potential film snags and time spent on adjustments during installation and changeovers.
Spare Part Sustainability
Depending on your machine there may also be an option for a flexible system that allows you to expand or adapt your forming set for future needs.. For example, if you are currently running a pillow bag you've probably seen those bag spreaders at the bottom of the forming tube. Since Rovema forming sets use a modular design we might be able to change out your wire spreaders with a rectangular bag chute to help create a block bottom bag.
If you are already familiar with our forming sets, you already know how heavy they are compared to other forming sets in the market. On the surface, this may seem like a disadvantage however there's a reason our forming sets are so heavy. Rovema forming sets are made with thicker material to re-enforce high wear areas so that they last longer and keep you from purchasing so many forming sets.
ROVEMA has a passion for sustainability, not just in supporting customers with their sustainable packaging initiatives, but incorporating our own practices that prolong the life of your spare parts, reducing waste, as well as modular designs that allow for flexibility.
Choosing forming set options and accessories
Did you know that Rovema forming sets have optional accessories? These accessories are largely designed around specific applications which is another reason that it is so important to ensure the company that you are working with has the history of your machine, not only how it's built but what you are bagging.
Rovema has made selecting the options necessary for your forming set a little easier with our Forming Set Checklist and Questionnaire. Simply fill out everything you can and we will be in touch with an offer!
Also be sure to check out our offering of forming set accessories listed below: