Bag in box packaging is a type of packaging method that uses a flexible package inside a paperboard carton. A bag in box package is created by first filling and sealing product into a plain flexible package, often a gusseted pillow bag. The flexible package of product is then dropped into a carton by a carton forming machine.
Common industries or product types often sold in bag in box packaging are ready to eat cereals, baking mixes, snack foods like crackers and even frozen food products.
CPG & Grocery Trends
It has been observed by our team at dozens of trade shows over the years like PACK EXPO that the use of Bag in Box packaging is on the decline. They are being surmounted by premium flexible packages like the doypack bag. There are three reasons why many CPG manufacturers are making the shift from using bag in box packaging to standup pouches.
Cost

Sustainability

New technologies & market trends (e.g. emergence of standup pouches in shelf-ready packaging)
Let's unpack (pun intended!) these one-by-one.
The High Cost of Bag in Box Packaging
Bag in Box packaging uses two layers of packaging material and therefore has a higher packaging material cost to produce.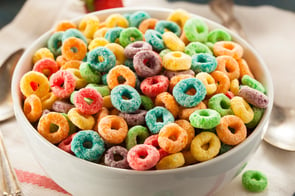 Obviously, shifting from what is essentially a double package - a carton with a pillow bag inside of it - to a single package results in cost savings for the manufacturer.
Cost savings are not just found in the material itself. Savings are also found on the manufacturing line in conserving expensive floor space, and reducing capital investment along with related maintenance and operations costs.
Standup pouches, an alternative to Bag in Box, are produced using single VFFS machines which take up less space on the manufacturing floor than a typical Bag in Box line which might include three baggers feeding a single cartoner.
Though this produces more packages (up to 300 cartons per minute) it requires more labor. Multiple vertical baggers operating independently will provide redundancy and repeatability while increasing total output.
Transportation costs are also improved by switching from Bag in Box packaging.
While a block-bottom bag will typically require the same packing space as a carton, a block bottom bag with bag conditioning can minimize the headspace via a reduction in the trapped air and create a more compact brick-style pack.
By more densely packing the product, manufacturers can save on case sizes and the associated shipping costs, often being able to fit more units on a pallet and therefore each truck load. Flexible formats like stand up pouches also reduce the weight of materials for shipping which can result in additional cost savings.
On the store shelves, standup pouches are a natural fit for the cost-saving trend toward shelf ready packaging which reduces labor costs associated with restocking.
Sustainability and Bag in Box Packaging
Many of the cost-saving opportunities naturally result in increased sustainability simply from reducing the amount of packaging for each unit and seeing the ripple effect of savings throughout your supply chain.
Big box stores and other large retailers are requiring sustainability progress from suppliers, this is top-of-mind for most manufacturers. Walmart, for example, released their sustainable packaging playbook for suppliers, specifically calling for a reduction of unnecessary extra layers or components, i.e. a bag in a carton.
Consumers are becoming increasingly interested in purchasing products that are packaged more sustainably. Millennials are a generation that has grown up with the most information about environmental safety and how their carbon footprint impacts the planet.
They are making purchasing decisions based on the eco-friendliness of a product and its packaging, and are ok if that results in absorbing that cost. According to Forbes, millennials tend to purchase products from brands that are known to promote corporate responsibility such as sustainability, because it also reflects who they (millennials) are as a person.
Finally, less materials are utilized to produce pouches in lieu of Bag in Box packaging. The volume of primary packaging materials is often cut by more than 50% once you eliminate the extra exterior paperboard packaging. The films being used for pouches are thinner - resulting in even less material use - and recyclable. Paring down to a single piece of packaging also makes recycling easier as one doesn't have to sort the paper from the plastic.
New Technologies replacing Bag in Box Packaging
Bag in Box is an old method that was developed for consumer expectations and equipment capabilities common decades ago. But it provided important capability at the time.
A big obstacle to overcome in the transition away from bag in a carton was food preservation. Bag in Box used to be the best option for most, but pouches are becoming very effective. Pouches' reclosable features are improving and typically include a zip-top closure that most pillow bags used in Bag in Box don't offer. Films are evolving to provide better barriers that help increase shelf life which improves the value for manufacturers and consumers alike.
Advances in pouch stability compare favorably to cartons. Early stand-up bags were wobbly on shelves, making it difficult to stock neatly and for marketing a product. New flexible packaging is a lot more stable. Film companies have made great strides to mimic the stand-up qualities of Bag in Box, making the product stiffer or shaping the corners of pouches to give the carton a better look and feel and allowing it to stand better on its own. Companies are also creating films that perform better on VFFS machines improving throughput and packaging efficiencies.
Finally, there is more that pouch packaging can do in terms of marketing that traditional Bag in Box cannot. Product owners have a better choice of graphics on a stand-up pouch over a carton because there is more exposed surface area. It is less expensive to print on film than cardboard and much easier to do. Brands also get a better quality of ink, brighter colors and more of a variety of finishes for flexible films versus cartons. This allows the product to stand out even better on store shelves. And when used as part of a shelf ready packaging system, graphics of the tray and the pouches can be coordinated to tell a bigger story.
Use Cases for Bag in Box
Despite advancements in film technology and the increasing popularity of pouch packaging, there are still certain products for which Bag in Box packaging remains the preferred choice. Cereal, for example, is one such product as producers tend to stick with this traditional packaging style. However, a major obstacle for stand-up pouches in the cereal market is the way cartons are displayed on store shelves. The tall and narrow design of cartons makes it challenging for pouches to replicate the same impact as Bag in Box packaging.
Additionally, there is a strong tradition in how cereal is marketed, with a preference for the Bag in Box style. This tradition often hinders brands from exploring alternative forms of packaging. Nevertheless, pouches are starting to gain traction in the upper end of the cereal market, particularly with products like granola.
Meal kits, such as macaroni and cheese or Hamburger Helper, still prefer the traditional Bag in Box packaging due to the multiple components these products contain. Although it may be easier to package multiple pouches and individually-packaged ingredients into a box, the shift towards shelf-ready packaging is changing expectations for center-of-store items like meal kits.
Lastly, many frozen food products continue to utilize the Bag in Box approach because it offers better product protection and is easier to display in freezer sections at grocery stores.
The Bottom line
With advancements in film technology, brands now have the opportunity to explore the use of pouches as an alternative to traditional bag in box packaging. As consumers increasingly prioritize sustainability and brands seek cost-effective manufacturing solutions, the presence of bag in box packaging on store shelves is diminishing. However, there are still a few specific situations where bag in box remains the optimal choice.
Of course, ROVEMA has high speed packaging solutions for both packaging strategies and if you need expert assistance in hammering our your packaging specs, or evaluation the best VFFS or cartoning solution for your product, we are always here to help.