A Quick Recap: the Rovema Brown Bag Blog Series
Last month, we put out the first of several in our new Brown Bag Blog series. The aim of these posts is to keep them short, sweet, and to the point.
Every few weeks, we'll be devoting one of these posts to exploring the components of one specific style of VFFS bag. We'll outline the advantages and considerations, talk about its appearance and how it is formed, and discuss its place within current market trends.
If you missed the first post on the block bottom bag, be sure to check it out here!

In our first post, we talked about why it is critical to consider the pros and cons of each bag style for your VFFS machine, rather than merely accepting the default.
We want to support you in making a choice that, in both the short and long term, is beneficial for you, your customers, and your product.
The blog posts in this series are a great starting point. However, if you're looking for a more in-depth analysis, be sure to check out our Rovema Bag Style Guide.
With that, let's dive into the bag style focus of the month: the gusseted pillow bag.
Keep it simple; keep it classic: The Gusseted Pillow Bag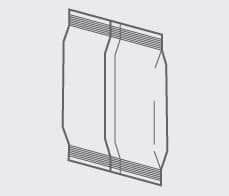 What is a gusseted pillow bag?
The gusseted pillow bag is a simple variation of the classic, original pillow bag. Much like the standard pillow bag, the gusseted pillow bag is economical and simple to produce, is customizable, and can be produced at very high production speeds.
Though it is a lay-flat package like the pillow bag, the gusseted pillow bag has two side gussets that add a third dimension beyond that of the standard pillow bag. Because it allows for very high production speeds, leads to efficient and effective packaging in cartons, and is predictable and consistent, many customers find the gusseted pillow bag to be a strong choice for their Rovema VFFS machine.
What is the design of a gusseted pillow bag?
Gusseted pillow bags are quite similar to standard pillow bags. However, they possess two additional gussets--one along each side--that add an additional dimension. These bags have a top and bottom seal with a vertical fin or lap seal along the back of the bag.
Gusseted pillow bags are simple and efficient to produce and can run a great variety of materials reliably.
What are the advantages of the gusseted pillow bag?
As the original style of vertical bag, the pillow bag has stood the test of time for good reason. Its close relative, the gusseted pillow bag, shares many of the same advantages.
The gusseted pillow bag is highly predictable, consistent, and economical to make. Because of the gussets on the package, it allows for the use of a larger forming tube than a standard pillow bag. That often equates to higher speeds and cleaner charges from the filling component. Running this style of bag on your VFFS machine makes it easy to achieve very high production speeds.
Beyond allowing for speed and efficiency, there are several customizable features that can be included on a gusseted pillow bag to meet your product's needs. It can feature different hole punch styles for merchandising, as well as include easy-open and reclosable features like a zipper and perforation line.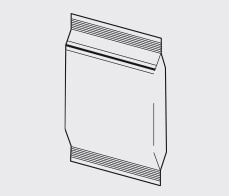 Because of its simplicity and dependability, the gusseted pillow bag is a strong bag style choice for many products across different industries.
What are considerations for the gusseted pillow bag?
When deciding on which bag style to use for your Rovema VFFS bagger, there are other factors to consider. A few questions you might want to ask yourself if you are considering a gusseted pillow bag are:
- Do I need a pouch with stand up ability? If so, you should explore other options like the RoPack, Stabilo, or Block Bottom Bag, as gusseted pillow bags do not have this feature.
- Do I want a bag that is distinct from other styles that are often found in the market? If so, you might want to check out a different style. Given its dependability, customizability, and efficiency, there is a superabundance of the gusseted pillow bag in the market.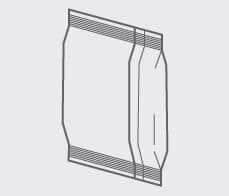 - How important are backside graphics on my product's pouch? Because of its longitudinal seal, backside graphics on the gusseted pillow bag are obscured. An offset vertical seal is an option but the vertical seal is not currently able to be placed in the corner itself, therefore is not a true offset. There are several other options, like the block bottom bag with a true offset vertical seal out there if this is a dealbreaker for you.
We want to support you in making the best decision for your products, operations, and customers. These are just a few of the questions we'd encourage you to consider, and we're happy to provide more individualized thoughts for a specific project if you'd like to reach out to us here.
What types of products would a gusseted pillow bag be good for?
The gusseted pillow bag's simplicity in design allows for predictability, efficiency, and dependability. For these reasons, we see it used in VFFS machines across many different industries and for many different products. In our experience, some of these include:
The gusseted pillow bag is also an excellent solution for bulk packaging solutions, as the gussets allow for neater palletizing and a larger package volume.
How does the gusseted pillow bag appeal to current market trends?
This last year has been a turbulent one, to say the least. More so than ever, shoppers have been incredibly careful about saving money. This, coupled with the fact that many ingredient and other input prices have increased and manufacturers are putting more and more pressure on manufacturers, has squeezed manufacturers' margins.
Bag styles like the gusseted pillow bag are a great choice for our customers that are feeling these pressures. The gusseted pillow bag can be produced simply, efficiently, and at high production speeds, making it a strong choice for many within current contexts.
You may also find this post helpful about reducing your overall material usage in your VFFS packaging operation.
Let Rovema help: with gusseted pillow bags or any other VFFS bag selection needs
This Brown Bag Blog series is here to serve as a resource for you because we want to ensure you've made the bag style choice for your VFFS machine that is best for your individual needs. Whether you think that's a gusseted pillow bag, a block bottom bag, or one of the many other bag style options available to you, we are here to support you throughout your decision-making process.
Because it is simple and economical to make, consistent and predictable, and can easily achieve very high production speeds, many choose the gusseted pillow bag for their Rovema VFFS machine. If you are interested in learning more about running gusseted pillow bags on your Rovema VFFS bagger, or in investing in a Rovema VFFS machine with capabilities of producing these types of bags, please reach out to us here.
Note that if you are a current customer running a BVC Flex machine and are considering switching to a gusseted pillow bag from any other package style, you can use your current machinery to test this in your market. Contact our Life Cycle Services department about tool-less changeover training and what else you need to consider, according to your specific solution.