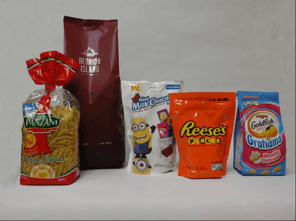 Here are some interesting statistics for you. Stand up pouches are expected to reach 33.4 billion USD globally by 2020. From 2015 to 2020, they have a CAGR (Compound Annual Growth Rate) of 8.1%. In the United States alone, the demand for stand up pouches will reach 24 billion units by 2018, a rate of 7% per year. While the flat pouch will also increase in demand, it does not match the rate of the stand up. Consumers like this bag!
For many in the packaging industry, when you think of stand up pouches the first thing that comes to mind is a Doypack or a bag that is produced with a horizontal packaging machine. Even though flat pouches or pillow bags are most often associated with a VFFS, leaders in vertical bagger manufacturing have also been producing stand up pouches for quite some time. More recently we have seen vertical machines capable of creating its versions of the Doypack. There are, however, multiple types of stand up pouches that can be produced. Let's delve further into the different stand up pouches that can be manufactured on a vertical bagger:

Ropack – At almost two decades old, this bag is the Rovema version of the Doy style pouch and was trademarked to mean Rovema Doy Pack. The Ropack may go by other names depending on the VFFS manufacturers who are capable of making this pouch. As a marketing bonus, this bag offers an attractive billboard effect that make it popular with branding. In addition, it can be created on a machine that has a smaller footprint than a horizontal machine. Not only is this VFFS capable of creating the Ropack with re-closeable features such as a zipper or tape, but it can also produce the pillow bag with a changeover of 15 minutes.

Flex Can –

An Amcor and Rovema partnership pioneered the introduction of this pouch in the 90's. While flexible packages are convenient, this bag is geared for the on-the-go lifestyle.

It is an easy open, re-closeable, stand-up flexible, container.

This pouch is durable and maintains its original shape and brand identity during use.

Flat Bottom Bag – Also known as the Block Bottom Bag, this pouch dates back to the 60's and evolved from the basic or gusseted pillow bag to give the costumer a bag that stands up on the shelf. The gusset needed for this stand up pouch provides more space for product. In addition to the gusset, all that's needed to change from a pillow bag is a forming set, kicker plate, and if necessary, film that is sturdy enough to support a stand up bag.

Stabilo Seal Bag – Produced by a process patented in 1991 by Rovema, this bag style is also referred to as a Quad or Four Corner Seal Bag. The appeal this bag provides is the high quality, polished look. With the seal on each corner of the bag, you are able to use a thin film structure but still have a rigid appearance.
While stand up pouches have been around a while (the Doypack was first created in 1963 by Louis Doyen) it wasn't until the last decade that we started to see the stand up pouch trending.
Why are we seeing this movement in the packaging industry? For one thing, the stand up pouch provides a nice billboard effect. The package can provide an attractive, attention grabbing promotional space for the product and company because the laminate film allows a higher quality with the graphics. Marketing teams are noticing this appeal to consumers. As Brand Packaging points out, stand up pouches are able to draw a customer's attention to shelves that other packaging materials are not capable of providing.
A second reason for growth is that these pouches can be centered around the consumer. The portion can be controlled for brands that are focusing on health-minded consumers. For people who are always on the go, the pouches provide convenient, flexible, and safe-saving containers for their product.
The increased demand for stand up pouches is also related to environment and space saving. As pointed out in a previous blog post, the pouch is lighter and uses less material and waste. This ends up making it more environmentally friendly in areas such as disposable waste and fuel required for transport.
We can go into other reasons for this increased demand, but I'll leave with this final point. Flexible packaging is extremely versatile, especially in regards to the bags that are produced on the Vertical Form Fill Seal Machine. We are seeing larger amounts of applications that can be applied to pouches. There are more options than choosing between stand up or flat pouch. And there are even more options than the type of stand up pouch. Shape, size, the type of seal, re-closing method, opening function, to hole punch or not to hole punch, are just some of the features that can be applied to make it unique to the application and product.
"The secret of happiness is variety, but the secret of variety, like the secret of all spices is knowing when to use it."
When Daniel Gilbert said this, I'm sure he was not referring to pouches produced by a VFFS machine. Nonetheless, the quote rings true with the fact that there are many types of bags and a variety of ways to personalize them. But, which is best for your needs? For your consumer's needs? For the branding you want to present? For the utility you want them to provide? To be happy with the stand up pouch filling and sealing machine you choose, make sure it can create the spices (pouches) that give your company and consumers what they want or need.