The Rovema Brown Bag Blog Series: The Final Chapter
This blog marks the sixth and final installment of our Rovema Brown Bag Blog Series. Throughout the series, we've had the chance to dive into the specifics of several different bag styles. We've talked about each package's design and appearance, explored both strengths and considerations for a given style, and discussed different bags' places within current market trends.

A huge message we're hoping stood out in all of these blog posts? How important it is to carefully consider which specific bag style is the best fit for your product and your company. Too often, we see customers and others in the industry default to a certain package style without much consideration. Though it can seem like a small detail, choosing a bag style for your VFFS machine that is tailored to your distinct needs will be beneficial in the long run.

The bag style you choose for your VFFS machine impacts production speeds, product waste, packaging material waste, production and package material costs, marketing, and product shelf presence, among many other factors. We want to ensure that you have the guidance and information needed to make an informed decision.
As such, we've written these posts to give you a quick overview of the various bag style options for your Rovema VFFS machine.
In case you want to check out any of the previous posts in this series:
5. Stabilo® Quad Seal Packages
Today, we will be focusing on RoPack® packages and comparing them to the doypack stand up pouches commonly seen in the industry. If you're looking for a more comprehensive exploration of the bag style options for your Rovema VFFS machine, or if you'd like more information about the process of choosing the best bag style for your individual needs, be sure to check out our Rovema VFFS Bag Style Guide.
What is a RoPack® Package and is it different from a Doypack?
What is a RoPack® Package?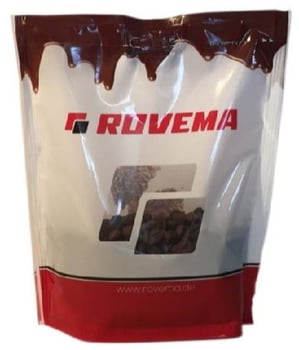 The RoPack® Package is Rovema's version of a doy-style stand-up pouch, or a Doypack. Even though the shape is the same as a Doypack bag, RoPack® bags are produced on a VFFS machine as opposed to an HFFS machine or being premade. A patented process for making it on a VFFS, created by Rovema, allows for the final product to look like the Doypack, but because this process occurs on a VFFS versus HFFS, it saves significant manufacturing space.

Like the traditional Doypack, the RoPack® bag is a sharp, premium-style package with great shelf presence. As more and more retailers push for stand up pouch packaging, this style (and method for forming it) is gaining significant traction.
What is the design of a RoPack® Package?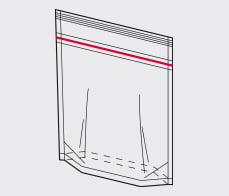 The RoPack® bag is a premium stand up pouch that has strong shelf appeal and presentation.

Stabilo® seals located along the bottom of the bag create a rock-solid base and contribute to the RoPack® bag's shelf presence. These seals also make the RoPack® package a great choice if your product needs to be in shelf or retail ready packaging.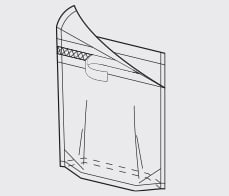 Beyond it being a premium stand up pouch, RoPack® bags have wide top openings, which give great accessibility to the product. These wide top openings can be coupled with easy open and reclosable features, such as zippers and perforation lines. These packages also feature full front and back panel exposure, making them a dream for marketing teams.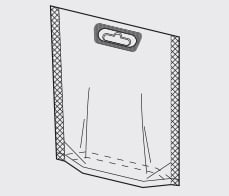 Because of these premium features, many customers find that the RoPack® bag is a great option for their Rovema VFFS machine.
What are the advantages of RoPack® Packages?
For the design and retail demands we explored above, doypack stand-up pouches are a premium and highly sought after package style. The problem? They historically required the use of an HFFS machine to produce from rollstock, which takes up a significant amount of production space; or, they require pre-made packages, which run up a high unit ticket price.

Enter: the RoPack® bag.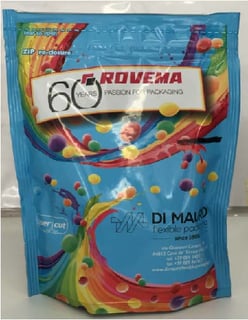 The RoPack® bag is Rovema's answer to the above challenges. It allows customers to produce doypack stand up packages on a VFFS machine. This allows for better space optimization than producing Doypack pouches on an HFFS machine, or, in the case of those using premade packages, reduces unit ticket prices considerably. RoPack® bags are produced using Rovema's patented process for making doy-style stand up pouch packages on VFFS machines using rollstock.
What are considerations for RoPack® packages?
Throughout this series, we've emphasized the importance of thinking through both the strengths and considerations of a given bag style when choosing which one to use for your Rovema VFFS bagger. When it comes to the RoPack® bag, below are a few questions we encourage our customers to consider (you'll find that many of these are similar to considerations for Stabilo® Quad Seal Style Bags).
Am I willing to have a higher package material-to-product ratio? To achieve their premium look and rock solid stand up ability, RoPack® packages do require more packaging material compared to pillow bag variations.
How critical is high production speed to me? If wanting to package your product at a high speed, we recommend checking out the Gusseted Pillow Bag or other Pillow Bag variations.

Am I willing to spend more on the premium film material that leads to the stellar appearance of this style of bag?
What types of products would a RoPack® Package be good for?
Because of its premium quality and its strong shelf presence, the RoPack® Package is popular across a variety of industries. In our experience at Rovema, we've helped customers run the RoPack® bag for their products in the following industries:
How can we help you find the best doypack solution for your products?
We want to ensure you have support and guidance you need as you choose the bag style that best fits your product's and company's needs. We know there are a lot of options, and that the process can be overwhelming. Let us help you out! Whether you're considering a RoPack® bag, or one of the many other bag style options available to you, we are here to support you as you explore different options for your VFFS bagger.
Please reach out so we can help throughout this process. Our team of experts is always available to help with your Rovema VFFS machine - whether by helping you choose a bag style or by assisting in another way.