Introducing: the Rovema Brown Bag Blog Series
This is the first of several in our new Brown Bag Blog series. Just like an brown bag meeting, the blog posts in this series will be concise, to the point, and won't take longer than your lunch to read.

Each month, we'll be devoting one of these posts to exploring the components of one specific style of VFFS bag. We'll outline the advantages and considerations, talk about its appearance and how it is formed, and discuss its place within current market trends.
Why Focus on Bag Styles?
Often, bag styles for VFFS machines are chosen by default. At Rovema, we know from experience that this can be negative in both the short and long term. Failing to research different bag styles can create tensions between brands and operations, can cost critical market opportunities, and can impact product freshness and integrity.

At Rovema, we want to help you make the best bag choice for your VFFS machine. If you want a deeper dive on our "why" for this new series, check out our VFFS Bag Style Guide here. Otherwise, be on the lookout for our monthly installment in our Brown Bag Blog Series.

The focus this month: block bottom bags.
Block Bottom Bags, You Make the Rockin' World Go Round
What is a block bottom bag?
The block bottom bag is a staple in the packaging industry, and for good reason. With a distinctive, sturdy bottom these bags have great stability and can stand up securely. As such, block bottom bags are efficiently stored and products in these bags can be easily retrieved. Because this bag style has such great shelf presence and is on the faster end of production speed, it's no surprise the block bottom bag is a go-to in many industries.
What is the design of a block bottom bag?
A block bottom bag is a gable-top, self-standing package. It has wide side gussets that define and support the block bottom with a top and bottom seal. It also has a vertical fin or lap seal along the back of the bag. It is similar to gusseted pillow bags and simple pillow bags, but is defined by its wide side gussets and distinctive block bottom.
Beyond its basic design, the block bottom bag can be customized to meet your products' and brand's needs. It can feature different hole punch styles for merchandising, and can have added features like a zipper and perforation line to support easy open and reclosure features.
What are the advantages of the block bottom bag?


The block bottom bag has been around for a long time, and for good reason. It originally appeared in paper form to hold products like flour and sugar, and today is used for a wide variety of products across several industries.

Many opt for the block bottom bag because it is the simplest stand up pouch to make. This allows for high speed application. Given the importance of speed and efficiency in this industry, the block bottom bag can be a good choice.
Beyond that, this style of bag is easily customizable. So, things like easy open features, reclosable options, and different hole punch styles for merchandising can be included in the design.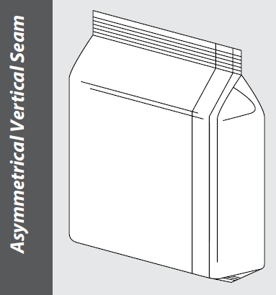 Another huge win for the block bottom bag? It has plenty of room for graphics, and adapts wonderfully to more recent demands for shelf-ready packaging (more on this in a later section). When run on your Rovema VFFS machine, there is an optional offset vertical seal that allows for full front and back panel exposure. These spaces can then be devoted entirely to graphics.
Overall, the block bottom bag allows for speed and efficiency in production, while also maximizing customizability and graphics. All around, it's a strong choice for your Rovema VFFS machine.
What are considerations for the block bottom bag?
When deciding on the best package style to use for your products, there are other factors to consider. A few questions you might want to ask yourself if you are considering a block bottom bag are:
Do I need my stand up pouch to have maximum shelf stability? If so, it might be worth considering styles like RoPack or Stabilo.
Do I want a bag that is unlike anything else in the market? If so, you might want to consider a different style. Given the strengths we explored above, there is less market differentiation for the block bottom bag.
We want to help you make the best decision for bag style. These are just a few of the questions we'd encourage you to consider, and we're happy to provide more individualized thoughts for a specific project if you want to chat with us 👉👉.
What types of products would a block bottom bag be good for?
There are many products and industries that commonly use the block bottom bag. Because of its versatility and dependability, it is a strong choice in a variety of industries and with many different products. In our experience, some of these include:

How does the block bottom bag fit within current market trends?
Stand up pouches, mixed case packaging, and other retail ready packaging are all the rage right now. Customers often want products that they can directly unload from the pallet to the shelf. In the case of mixed case packaging, they need only remove the lid from the box and they've got several varieties of a given product ready for a customer to choose from.

Block bottom bags fit solidly within these trends. Because they are stand up pouches, they can be placed on shelves and easily removed by customers. Their shape allows them to be easily stored and transported. And, they're often found in mixed case packages.
In other words, the block bottom bag is an oldie but a goodie.
Let Rovema help: with block bottom bags, or any other VFFS bag selection needs
We're writing this Brown Bag Blog series on different bag options because we see firsthand the importance of selecting a bag for a given product that is truly the right fit, not just the default option.
Given that it is versatile, shelf-ready, sturdy, and efficient to produce, the block bottom bag is the right choice for a variety of products and industries. If you are interested in learning more about running block bottom bags, or in investing in a Rovema VFFS machine with capabilities of producing these types of bags, you can chat with us or send us some preliminary info here and we can get you a quote.