In Case You Missed It: the Rovema Brown Bag Blog Series
Over the past few months, we've been creating and sharing posts as part of our Brown Bag Blog series that focuses on different bag style options for your VFFS machine.
We know that you have many choices when it comes to the bag style you use for your products and that Vertical Form-Fill-Seal bag styles are often chosen by default. However, in our experience, taking the time to explore the strengths and considerations of the different bag styles pays off in the long run.
As such, we're releasing these posts to give you a quick overview of the various bag style options for your Rovema VFFS machine. In each, we outline the advantages and considerations of a given bag style, talk about its appearance and how it is formed, and discuss its place within current market trends.
If you're new to this series, we recommend starting here:
If you've been following along since the beginning, read on for our dive into Flex Can packages.
Find yourself wanting more? Check out our Comprehensive Bag Style Guide!
A quick side note before we jump into this month's bag style: the blog posts in this series are a great starting point for finding the right bag style for your Rovema VFFS machine. However, if you're looking for a more in-depth analysis, be sure to check out our Rovema Bag Style Guide.
A Unique Twist on the Stabilo® Package: The Flex Can
What is a Flex Can package?
The Flex Can is a variation of Rovema's Stabilo® package or four side seal package that gives a final product appearance closely resembling a can.
For those not familiar, the Stabilo® bag is formed by a process invented by Rovema that provides premium stability and shelf appearance. It has a patented process for stabilizing the vertical seal on each corner, making for a great shelf presence.
The Flex Can embraces the design and stability strengths of the Stabilo® bag and applies them to form a package with a distinct, can-like shape. The Flex Can is created by forming and filling the Stabilo® package rotated 90 degrees, and results in unparalleled stand up ability and shelf presence.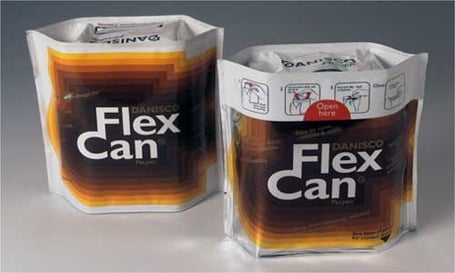 What is the design of a Flex Can package?
Flex Can packages are similar to Stabilo® packages and are created through a very similar process. Rovema's patented process for stabilizing the vertical seal on each corner makes for excellent shelf presence and allows for the product to be easily stacked and stored.
Design-wise, the Flex Can package has full front and back panel exposure for graphics. In addition, it is easily customizable with both easy open and close features. When run on the Rovema SBS VFFS Machine, there is a wide variety of different reclosure features that can be applied to your Flex Can package as well.
What are the advantages of a Flex Can package?
The Flex Can is a very unique package, in that it is produced with film yet gives similar characteristics and appearances as a can.
We find that many of our customers gravitate towards it because of its stand up ability and customizability. Like the Stabilo® package, the Flex Can can stand up on a shelf. Many producers use a high quality multi-layer film to achieve the welded top and bottom Stabilo® seals, which leads to incredibly solid stand up ability.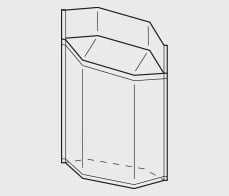 The Flex Can is also highly customizable in terms of its easy open and reclosable features. On just our SBS VFFS Machine, there is a great assortment of bag tops and possible shapes that can be produced - like the standing longitudinal seam as peel seam demonstrated in the image here.
Because of their stability, shelf presence, and customizability, many of our customers choose to use Flex Can packages on their Rovema VFFS machines.
What are considerations for the Flex Can package?
Choosing which bag style to use for your Rovema VFFS bagger is a big undertaking, and there are many factors to consider. A few questions you might want to ask yourself if you are considering a Flex Can package are:
Do I need a pouch that can be produced at a very high speed? If so, you should explore other options like our pillow bag variations, as they can be run on VFFS machines at higher speeds than Flex Can packages.

Am I okay with a higher package material to product ratio? Compared to pillow bag variations, Flex Can packages require more material per product to achieve their rock-solid stand up ability.

Am I willing to spend a bit more on film material to achieve the premium look of the Flex Can package? Often, these packages require a more expensive film material to ensure their stability and premier appearance.
We want to help you make the best decision for the bag style that will meet your product's distinct needs. These are just a few of the questions we'd encourage you to consider, and we're happy to provide more individualized thoughts for a specific project if you want to chat with us at the bottom right corner 👉👉.
What types of products would a Flex Can package be good for?
The Flex Can package's customizability, stand up ability, and stellar shelf presence makes it a common choice across many industries. In our experience with VFFS machines, some of these include:
How does the Flex Can package fit within current market trends?
In our first blog in this series, we talked about how Block Bottom Bags fit within the hot trends of stand up pouches and retail ready packaging. The Flex Can package fits well within these trends as well. Like the Block Bottom Bag, Flex Can packages have rock solid stand up ability. This makes it easy for them to be placed in shelf ready packaging, stacked on shelves, and easily removed by customers.
The Flex Can also excels when it comes to the overall shelf presence of a product. We all know that people shop with their eyes first, and, when it comes to packaging, Flex Can packages look pretty fly. They are incredibly stable, can be easily stacked, and have lots of room for design -- what's not to love?
Let us know how we can help: with Flex Can packages, or any other VFFS bag selection needs
We've seen, time and again, how important it is that our customers carefully consider different bag styles for their VFFS machine, depending on their distinct product's needs. Whether you're thinking about using a Flex Can package, a gusseted pillow bag, a block bottom bag, or one of the many other bag style options available to you, we are here to support you throughout your decision-making process.
For many, the Flex Can package is a great choice. With its stand up abilities and its premium appearance and shelf presence, it's the right fit for products across many industries.
If you want to learn more about running Flex Can packages on your Rovema VFFS bagger, or if you want to invest in a Rovema VFFS machine with capabilities of producing these types of bags, please reach out to us here.