Editors Note: This blog was originally published in March of 2017 but has been edited and republished with additional content around this topic.
Format addresses consumer demand for functionality, convenience and sustainability
The market for stand up pouches continues to expand with no end in sight. Growth stems from consumer demand for portable, durable and convenient packaging, according to "Stand-up Pouches Procurement Research Report," a study published by SpendEdge, a global procurement intelligence advisory firm headquartered in London.
"The market is growing significantly due to benefits such as ease-of-use, durability, light weight, and [the] ability to provide on-the-go consumption of products," reports Tridib Bora, procurement research analyst at SpendEdge. Drivers for market growth include sustainability initiatives like reduction in material usage, waste, package weight and transportation costs; use of high-barrier, shelf life extending films; and the availability of features that enhance functionality and boost household efficiency.
Stand Up Pouch Trend 1: More functional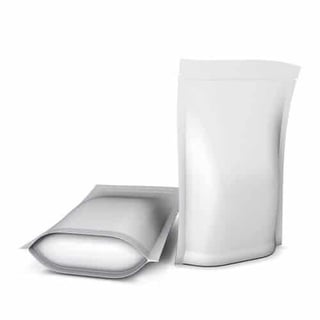 With today's busy lifestyles, consumers want to complete everyday chores like shopping, cooking, cleaning and yard work as quickly as possible. Minimizing time spent performing these necessary tasks helps households run more smoothly and expands opportunities to relax and enjoy quality family time.
Functional features like tear notches, zippers, fitments, closures and handle holes make the retail pouch easy to open, easy to drink/eat or dispense from and easy to re-close. Spouts on pouches of baby food and yogurt, for example, eliminate utensils and allow children to feed themselves with less mess. Less mess also results when dispensing fitments control and direct the flow of condiments, frosting, liquid laundry detergent and other products.
Stand Up Pouch Trend 2: More Stable
Online ordering, an increasingly popular way to shop, was originally projected to grow at a 5.9% annual growth rate between 2014 and 2019, according to "Overcoming the Challenges of the Evolving E-Commerce Supply Chain," an infographic, published by PMMI, The Association for Packaging and Processing Technologies, Reston, VA.
According to the U.S. Census Bureau, "The fourth quarter 2019 e-commerce estimate increased 16.7 percent (±1.1%) from the fourth quarter of 2018." Even before the COVID-19 pandemic if 2020, e-commerce projections were quickly outpacing original projections.
Multilayer films seal securely and withstand the rigors of E-Commerce shipment and additional innovations continue to debut that add package stability and rigidity to many stand up pouch styles. As films get thinner, using additional seals strategically on stand up pouches, like Rovema's VFFS made doy bag, help to keep a sturdy stand-up-ability.
Stand Up Pouch Trend 3: More Visible
On traditional retail shelves, the unobstructed back panel area available on flexible stand up pouches allows marketing and brand teams greater surface area for romance copy or other elements, in addition to required information like nut/ing panels, UPC etc. For more traditional packages, these teams often had to work around a fin or lap seal interfering with this back panel.
Also using stand up pouches gives each unit a billboard-like presence in the market, which maximizes shelf impact and product visibility to help the consumer grab and go and minimize time spent shopping. Shelf impact also encourages impulse and first-time purchases.
Stand Up Pouch Trend 4: More convenient
Hand-in-hand with functionality, stand up pouch packaging addresses the consumer's need for convenience and can offer attractive price points for budget-conscious shoppers. With snacking replacing more and more meals, consumers want lightweight, portable, utensil-free packs that can be thrown into the backpack or car for on-the-go consumption. They also like portion packs, so there's no need to repackage product. Single-serving pouches also simplify portion control – a concern of consumers who are striving to eat healthier and/or are watching their weight.
From a different perspective, Hershey's actually changed the trajectory of Reese's Minis by putting them in an easy to snack from flat bottom pouch. Unencumbered by unwrapping piece by piece, consumers increased the consumption of the confection.
Quick food preparation is another demand from consumers. Microwave-ability is key, and stand up pouches often are designed for in-pack heating/cooking with features for self-venting and "cool" corners for safe handling, post heating.
Retort pouches hold shelf-stable products like heat-and-eat rice, withstand temperatures up to 130 C, provide a shelf-life-extending barrier to air and light and play a growing role in minimizing time spent for food prep. In fact, it's projected the stand up format will continue to dominate and account for 53% of the retort pouch market by 2027, according to Transparency Market Research, Albany, NY. Its report, "Retort Pouches Market…," attributes the market growth to the prevalence of fast-paced lifestyles, demanding jobs and long commutes, which spur interest in food that requires minimal preparation. With disposable income rising in developing nations, stand up pouch trends are spreading worldwide and boosting the retort pouch market globally.
Stand Up Pouch Trend 5: More sustainable
Although multi-layer construction limits recyclability, retail pouches offer sustainability advantages versus rigid packaging. Light weight and a space-saving footprint allow more product to be shipped per truck and cut transportation costs across the supply chain.
Other sustainable packaging benefits include a reduction in food waste, a subject receiving a growing amount of attention worldwide. Multi-serving stand up pouches re-close to protect product freshness and minimize waste. Single-serving packs are generally consumed in one sitting, eliminating leftovers, which could stale or spoil. In addition, the flexible packaging material allows the stand up pouch to empty more completely, leaving minimal or no residual.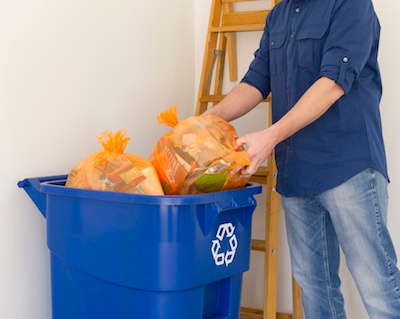 Multilayer pouches, which are rarely recycled at present, could be diverted from landfills and serve as a valuable energy source with more widespread adoption of the Hefty EnergyBag program. Photo supplied by The Dow Chemical Co.
Lack of recyclability could become less of an issue if efforts like the Hefty® EnergyBag™ program gain widespread adoption. In this program, households collect formerly non-recycled plastic packaging in orange bags. Filled bags are picked up with household trash, separated and sent to an energy conversion facility. The concept was showcased at PACK EXPO Las Vegas (Sept. 25-27, 2017) where Dow Chemical (now DowDuPont), Midland, MI, sponsored placement of Hefty EnergyBag plastic waste collection bins throughout the Las Vegas Convention Center.
In Omaha, NE, an early adopter of the Hefty EnergyBag program, 8.9 tons of non-recycled plastics were diverted from the landfill during the first 11 months. Approximately 8,500 households participate. To expand access, Dow is partnering with Keep America Beautiful, Stamford, CT, to award $50,000 grants to two organizations to establish Hefty EnergyBag programs in their communities.
With so many attributes that meet today's need for ease-of-use, convenience, portability, portion control, fast meal prep and waste reduction, the flexible pouch is destined to be a major packaging format for the foreseeable future.
Stand Up Pouch Trend 6: More Shelf-Ready
Shelf and retail ready packaging is an increasingly urgent priority for many CPG manufacturers. This article addresses a variety of manufacturing trends that are driving the growth in pouches for primary retail packaging, but a significant driver is their natural suitability to meet the "Easy to Shop" requirement of Wal-Mart's "PDQ" guideline. Stand up pouches work well as the primary package in "Easy to Stock" trays and shelf ready packaging displays, and retail customers find them easy to select from the shelf. Even the smaller segment of SRP, mixed case packing, is making waves for producers selling to smaller format, European-based retail stores like Aldi and Lidl, which comes with it's own advantages and considerations, which are unpacked here.
Want to learn more about the trend? Download our free guide on preparing for a shelf ready packaging implementation.