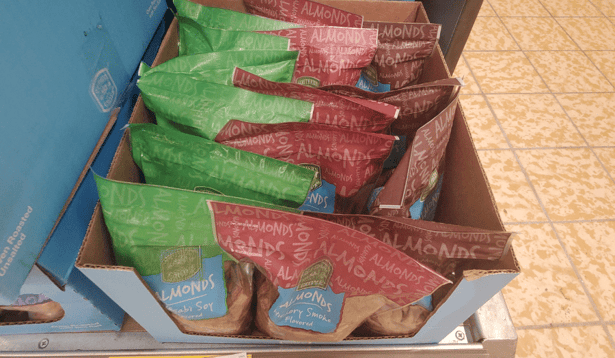 It's intriguing to read studies about food and supermarket psychology: how milk and eggs are located far from the entrance so shoppers get distracted and make impulsive purchases, how the most expensive products are at eye-level in a given aisle, how product placement on end caps impacts purchasing levels, and how a detail as minute as the type of music playing in a store can impact customers' spending habits. These seemingly small choices have profound impacts on buying and spending trends.

And something that has become more and more prevalent in stores and that, I predict, influences both the way products are sold and the amount they are sold? Mixed case packaging.

When I'm shopping while hungry, choosing between dark chocolate almond trail mix and sweet and salty mix seems like a nearly impossible feat. And there's a pretty good chance that, if I have to reach into the same box to grab one or the other, both are going to end up in my cart. It's also a good indication of a great product when you look in a mixed box and see one variety that's nearly gone, and you're able to snag the final one of that coveted variety.

Today, our post is all about the behind-the-scenes packaging mechanics of these mixed cases, and how Rovema can support you with your mixed case packaging needs.
Breaking it Down: A Brief Intro to Mixed Case Packing
What is mixed case packaging?

For those unfamiliar with the term, mixed case packing is when different varieties of the same type of product are packaged into the same retail ready case. Think about the last time you walked through a large supermarket. You probably saw large corrugate trays or cases that contained different types of trail mix, different varieties of cereal, varying quantities of fruit and nut mixes, or pretty much any snack, sauce or vitamin that comes in different flavors or types. This is desirable to stores for many different reasons, and is becoming more and more in-demand in the food packaging world.
The Mechanics of Mixed Case Packaging
Imagine you're a big grocery store. You've got a pallet sitting in your warehouse of cases of product and inside each case is not just one, but several varieties or flavors of a similar product. Trail mix, cereal, dried fruit, nuts - you name it.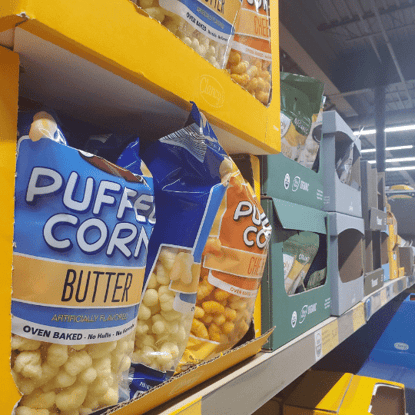 This is a small but growing segment of shelf or retail ready packaging, meaning all you need to do is move the box from the pallet to the shelf, remove the lid or tear-away section from the case and your display is ready to go. These mixed case packages are convenient and efficient. But what happened on the packaging end to get them to this point? This is where things get challenging for producers, so let's back things up a bit.
First, you've got your product. For this example, let's use different flavors of almonds: smokehouse, wasabi, and lightly salted.
Each of these flavors or varieties has to go through their own production and packaging process, often through the same or separate VFFS machines that form, fill, and seal the individual bags of almonds. You know that, in a given mixed case, you want 3 of each of your varieties. For a fully automated solution, you have to feed these individual product lines to your final packaging machine, such as your Rovema EW-TI, and that machine packages the correct number of each variety into one case, puts the lid on the case, and ensures it is ready for the shelf.
For some folks with lower volumes, it makes sense to go the work-in-process route, where they will run each product variety separately, store them until each variety has been packaged and then hand feed the packages into this same EW-TI model. Evaluating the best technique for a production plant really comes down to volume and current demand for these mixed cases.
Now that we've covered the "what" and "how" of mixed case packaging, let's explore why it's so desirable and in-demand at the moment.
Addressing Two Major "Whys": Why Mixed Case Packaging? And Why Rovema?
Why do retailers choose mixed case packing?
It streamlines shelf space efficiency.


For retailers that are intentional about keeping their stores more compact, shelf space becomes a hot commodity. Instead of placing a full shelf ready case of each variety of a product, placing one mixed case pack allows for the same product facing efficiency of hand placing items on a store shelf, but with the labor efficiency of retail or shelf ready packaging.


It saves on retail labor costs.




As mentioned above, mixed cases make it efficient for retail employees to merchandize products. The cases arrive on a pallet, and all that's needed is to get them from the pallet to the display, remove the lid or tear-away section and the mix of a variety products are merchandized just as the producer intended. Retail employees spend drastically less time keeping the shelves stocked and tidy and more time assisting customers.



How do producers benefit from mixed case packing?
Adapting to mixed case packing requirements can seem daunting from an engineering and operations perspective, especially for large volume producers that may have floor space or just general capacity constraints. The first priority for many of these folks is minimizing disruption.
So, other than helping their retailers gain the advantages above, what benefits are found on the manufacturing side by adapting to the mixed case packing process?
It saves on production labor overhead costs.



Producing mixed case packages using a machine like the Rovema EW-TI minimizes labor. The act of forming and closing the case is automatic. Rather than having individuals count different quantities of product and package them, by hand, into a case, this solution allows for workers to just focus on monitoring the lines and managing changeovers and if necessary, hand feed the machine for lower volumes.


It allows you to de-risk your workforce.



Especially in a time where social distancing is the norm, this allows your workers to maintain safe distances from one another. Rather than having a bunch of people trying to pull and hand pack different varieties into the same retail ready case, using a Rovema packaging machine to produce mixed cases allows for greater space among employees and, therefore, increased safety.

It's appealing to customers.



The case to embrace mixed case packaging is made clear by the points above and if you are a consumer packaged goods manufacturer supplying to retailers like Aldi, Lidl, Costco, or Walmart. Helping your retailers meet their efficiency and cost savings goals with shelf-ready packaging and variety packs can help you sell more of your products.
Why Rovema for mixed case packing stand up pouches?
Rovema is a proven leader in packaging automation technology. Our experience implementing the EW-TI for both fully automated and work-in-process applications is proven. ROVEMA's corporate headquarters is located in Europe, where shelf-ready packaging was (and still is) taking off long before the USA. As such, there's a tremendous amount of experience at ROVEMA that domestic companies can't compete with. We've been helping customers in the US with mixed case packaging for years-putting them ahead of their competitors.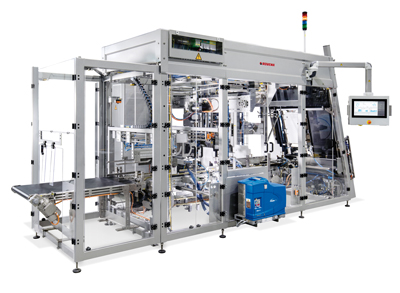 One particular challenge with mixed case packing is having different product counts. For example, wanting to have 2 items of one flavor, 3 of another, and 1 of a final flavor. ROVEMA's work in process mixed case packing method, and our unique infeed system is able to handle these different counts. This infeed system is at the center of these unique mixed case packaging solutions. It allows you to feed up to 6 different varieties, thus giving you the capability to create a variety pack consisting of up to 6 distinct products. This flexibility and versatility is great for you, as well as your customers.
Further, ROVEMA is able to provide you with the whole packaging line. Case packing flexible packages can have many nuances compared to case packing rigid packages like cartons or even bottles. It's important to partner with an end of line packaging machinery vendor that understands the importance of maintaining the integrity of your products when handling flexible packages. Rovema turnkey packaging solutions have many unique advantages for case packing mixed cases of stand up pouches and we can supply not only the EW-TI case packer but also the dosing, bagging and cartoning equipment to provide a complete turnkey solution. This is significant. It means you can go to one packaging machine expert for all support, all spare part needs, and all training. It also means you can fully rely on your integrated solution to deliver on the production speed, package quality and level of automation that you expected when you received your quote.
Plus, having just one point of contact means a stronger customer-manufacturer relationship, and ensures continuous support and predictability for you.
In Conclusion…
While mixed case packing is hot at the moment, like all retail ready packaging, it will likely become more and more in-demand in the coming years. Rovema has proven expertise, and is here to help with your mixed case packing needs.
If you've got a product line that would benefit from the opportunity to offer mixed case packages to your customers, we'd love to connect with you on it. You can get in contact with us by reaching out to us in the chat, or via our contact page.