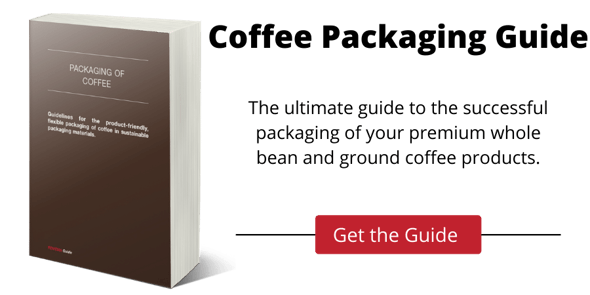 Premium coffee products often call for premium coffee packaging and with the wide range of choices of bag top shapes, packaging materials, modified atmosphere packaging strategies, and degassing valves, the opportunities are endless for coffee manufacturers to tailor the right packaging solution for their products. Every detail of your coffee bag design is important to you as well as your customers.
Do you know how many types of bags exist on the market today? Everyone knows the big household brands like Starbucks, Green Mountain, Dunkin Donuts, but many don't know that there are over 3,500 coffee brands in the US, with packages that come in various sizes, film thicknesses, styles, and materials so there's plenty of options to get creative with your coffee bag design but that also means that there are plenty of factors to weigh when evaluating the best vffs solution for your products!
What Does a Coffee Bag Design Often Include?
There are many factors that go into the package that your customers interact with on the shelf and expect from the product they choose to take home. The packaging material, the bag style, the reclosure feature, and the degassing valve all play an important part in your customer's decision but of course, they add cost to your finished product on top of the raw materials that you're already shipping in from the worlds largest coffee-producing regions of the world like Brazil, Costa Rica, Sumatra, Ethiopia, Kenya, etc.
What's imperative is that your coffee packaging does its job of keeping your product safe and maximizing its shelf life. The largest producers in the space opt to use some form of modified atmosphere packaging (MAP) for their coffee products and for ROVEMA customers, that means utilizing Aroma Perm®, a nitrogen gas flushing system that allows customers to get under 1% residual oxygen in their finished products.
Choosing the right packaging: What to consider
Coffee products are often packaged in premium flexible packaging materials like multi-layered and metalized films. Many producers are even vetting out new sustainable packaging materials that can be recycled or composted. These upgraded standards have led to an increase in prices but what makes these pricier, recyclable bags worth it? In short, to keep customers coming back for more! Retailers and customers are demanding and setting hard deadlines for sustainable initiatives.
The Ultimate Coffee Packaging Guide- ROVEMA 2021
There are a lot of intricacies that go into today's retail coffee packaging. With so many factors to consider, it can be difficult to make informed decisions about what's important to a successful operation.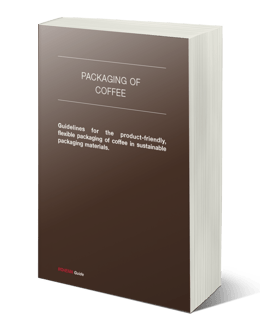 That's why ROVEMA has created the ultimate Coffee Packaging Guide based on their decades of experience serving the biggest names in the business. With an understanding of the current industry challenges as well as key practices, they are confident that this guide makes it easier than ever for your business to design quality packaging to keep customers coming back for more.
Here is a link to the site for anyone that would like more information on the guide or would like to access the document.
The added benefits of the right VFFS solution.
ROVEMA has nearly 65 years of experience in designing vffs machinery systems for customers in a wide range of industries including coffee, candy, snacks, grains, and other products with one goal: engineering top-of-the-line packaging technology to allow for premium product protection. ROVEMA assures their customers that they have a reliable partner through every step of their packaging project from design to final production and on through decades of support and continued training because customers deserve nothing less. They offer flexible machinery options that make sense for your business goals as well as advanced knowledge in assisting at all stages of production so you can focus on what matters most- your customers!
About ROVEMA North America
ROVEMA NA is a wholly-owned subsidiary of ROVEMA GmbH. Our operation in Atlanta is the North American sales, service, and parts presence for all of ROVEMA's engineered vertical form/fill/seal and end-of-line packaging solutions.
With over 1,000 machines installed in North America, we're fully committed to the ongoing support of our machines. Although occasionally certain drive or control components are obsoleted by our suppliers, we provide all available parts and ongoing technical support for any operating ROVEMA machine.
Our team in Norcross is combining German quality & engineering with American market awareness and responsiveness. All our machines are built under a single roof (not a global master brand) and we're aggressively building our staff to meet growing demand.