If these last few months have taught us anything, it's that flexibility rules.
Whether that's being flexible about where and how you work (Hello, Zoom meetings!), about the way you exercise (What's up, new home gym?), or about the way you greet people when you see them (Elbow bump? Wave from afar? Air five? Still up in the air on this one), being able to adapt to meet the needs of our current situation has been essential.
It's similar with packaging machinery. Whether you're packaging ground coffee, using a vertical form fill seal machine for snack food packaging, or dosing flour with an integrated auger filler , bagger and case packing line, you need solutions that are able to grow and change with your company's needs and with advances in technology.
You obviously want machinery that excels within current conditions: it should be carefully designed for your current product handling and shelf life management needs and meet the efficiency and automation needs of your plant. But, you should not overlook the importance of investing in machinery that will adapt to tomorrow's demands and partnering with a company that is committed to this flexibility.
The Nitty Gritty: What is VFFS Machine Flexibility?
When we talk about VFFS machine flexibility, we're talking about the ability of a machine to meet current needs and adapt to future ones. This is achieved by machine agility. In an industry where technology is consistently advancing and where consumer needs and wants necessitate regular shifts in production, this agility is critical.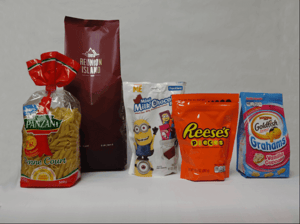 What, then, is machine agility? Think about it in terms of your favorite sport. Most of the time, the athletes that are most successful (and most impressive to watch) are those that move quickly and precisely, and are able to change their position to adapt to any given situation.
When we talk about machine agility, we're talking about a machine's ability to be able to switch and change quickly to meet any new needs that might arise.
Consider these two scenarios that highlight the importance of machine agility and flexibility.
In the first, you invest in a VFFS machine, and when you get it you are thrilled. It's the newest and most innovative technology available. You didn't prioritize a machine with high agility or flexibility, but it's the newest and most innovative. Surely it will stay that way for a long time. Time goes on: 2, 5, 10 years. New technology arises. As time passes, the fact that you did not prioritize a machine that was flexible becomes more pronounced. You want to innovate and try new packaging styles or materials that reflect the most current technologies, but that isn't possible on your VFFS machine. It's a one trick pony.
Now imagine a different scenario, in which you carefully researched and found a company that prioritizes flexibility in its VFFS machines: Rovema.
You know they must stand behind this commitment to flexibility, as your machine also has no end-of-life.
Your machine arrives, and it's the newest and most innovative technology available. Time passes, new consumer expectations arise, and you use your flexible bagger for large scale testing of a new fully recyclable film or even a completely different bag style- and after successful testing, you are an early adopter of your consumer's and retailers expectations and reap the benefits. Your innovation is not limited by your machine, but instead supported by it.
Let's talk specifics of how Rovema excels in machine agility and flexibility.
Rovema's Excellence in VFFS Machine Flexibility
The first areas in which Rovema VFFS machines demonstrate tremendous flexibility are changeover efficiency and recipe repeatability.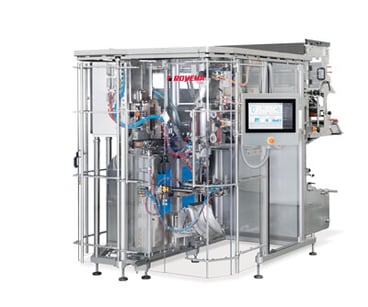 Take, for example, our BVC Flex Machine, one of our vertical form fill seal machines. It has the ability to do a tool-less changeover from a simple pillow bag to a RoPack doy style stand up pouch. This makes it easy for smaller companies to use the same packaging machine for multiple package types, and to do so efficiently. It is also a tremendous tool for large scale testing of new package types.
It's not just changeover efficiency that makes Rovema machines stand out in flexibility. Remember that, when we talk about agility, we consider both flexibility and precision. You don't want a VFFS machine that is able to form different bag types, but has poor seal quality or is inaccurate.
Check out PMMI's ProSource Article on the importance of best practices that not only has some tips and tricks to nail your changeovers every shift but also notes key stakeholders that should be involved in the process.
Rovema's machine flexibility is grounded on a foundation of recipe repeatability, which allows for seal quality integrity, weight accuracy, and film tracking to be maintained at superior levels as you transition your machine between recipes and packaging styles. By using tools like our automatic film tracking and an award-winning HMI with excellent recipe functionality, the repeatability of changeovers stays consistent through years of production.
Another proven area of excellent machine agility is the ability to run different film materials. Rovema has patented Premium Seal technology which, when paired with our D-motion sealing, allows for maximized dwell time of the sealing process and the integration of two different sealing pressures in one cycle. Our machinery uses completely servo-driven seal jaws, with no reliance on springs to drive force. This allows for very light pressure on thick films to preheat the inside sealant layer before applying full pressure.
All of this technology is highly adaptable to meet your distinct needs. From the dwell times, sealing force, difference in sealing cycles, and the heat-all of these can be customized to meet the requirements of each film type and saved for each distinct recipe.
These are just a few examples of Rovema's expertise and innovation in machine flexibility.
No End-of-Life: A Testament to Rovema VFFS Machines' Flexibility and Adaptability
At Rovema, we innovate packaging machines to support your company's production needs today, as well as adapt to its needs in the future. With the best VFFS machine options, expertise in integrated production lines, and constant innovations, (like newly-patented Collect, Buffer, Feeding technology), Rovema is a proven leader in the industry. This, in addition to our commitment to flexibility, makes us a clear choice for your packaging needs.
What greater proof is there of a company's commitment to flexibility and adaptability than their machines having no end of life? We can't think of any.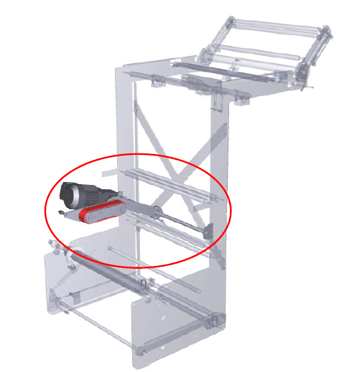 At Rovema, we stand behind our machines. They don't have an expiration date of ten years, twenty years, or even fifty years: we're committed to maintaining and adapting them for as long as you see fit.
We couldn't make such a commitment if our machines lacked agility and flexibility, and we wouldn't have 50+ year old Rovema machines running products today that you likely walk past in the grocery store.
We know that new innovations in efficiency and speed technologies come consistently. As such, we are intentional about making retrofitting possible for as many of our innovations as we can for prior machine models like updates to safety, film handling, and shelf life extension capabilities as they are innovated for new machines.
To Wrap Things Up:
It all comes down to having an adaptability mindset. Either your vendor is intentional about building flexible machines that have the ability to adapt and change with the times, or they make machines that are outdated as soon as new technology or novel packaging needs arise.
At Rovema, we embrace adaptability. We believe that VFFS machine flexibility and agility should be the norm, not a luxury. We are committed to sustainability and minimizing waste, which means making machines that last. We don't want our machines to be obsolete within a few years; we want them to be able to grow and change alongside our customers, and to be able to meet their packaging needs both in the present and future.