The production and packaging of coffee for institutional use has become more convenient with the adoption of sing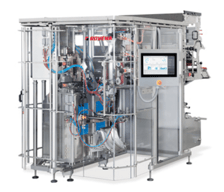 le-pot doses of coffee, known as fractional packs. These simple pillow bags of coffee, often around 1.5 ounces, can be deceptively difficult to maintain high-profit margins, due to a handful of factors- oxygen sensitivity, raw ingredient costs, and market saturation.
The ROVEMA BVC 260
This year at PACK EXPO East, ROVEMA North America, Inc. will demo a BVC 260 VFFS machine that has been specifically designed for the production of coffee fractional packs and excels in creating exceptional packages at some of the highest output and efficacy rates in the industry. Thanks to direct linkage servo drives powering the seal jaws, the sealing system is infinitely flexible for dialing in specs for a wide variety of film materials. This technology is also the backbone of ROVEMA's patented product detection feature, Sense and Seal ® that can sense product as light as a marshmallow and prevent the headache and potential damage caused if the package is fully sealed.
Turnkey Packaging Solutions
This machine has also been fully integrated with an SD81 auger filler by ROVEMA as well. For the sake of space, the auger will not be on display for the show but is worth mentioning due to the many advantages offered by sourcing both the filler and bagger for coffee and other free-flowing powder products that allow for high automation, OEE, and project management simplicity.
Let's Connect at PACK EXPO East
Trade shows are excellent opportunities for companies to gather information and consult with experts on how to solve their packaging challenges. Anyone curious about sustainable materials for their stand up pouches or anyone who would like to see a coffee frac pack machine in person should stop by ROVEMA's booth to make a connection.

Please visit us at booth 906 anytime from March 21-23, 2022 during show hours. You can also use guest code 48K31 for free admission to the event.
About ROVEMA North America, Inc.
ROVEMA NA is a wholly-owned subsidiary of ROVEMA GmbH. Our operation in Atlanta is the North American sales, service, and parts presence for all of ROVEMA's engineered vertical form/fill/seal and end-of-line packaging solutions.

With over 1,000 machines installed in North America, we're fully committed to the ongoing support of our machines. Although occasionally certain drive or control components are obsoleted by our suppliers, we provide all available parts and ongoing technical support for any operating ROVEMA machine.

Our team in Norcross is combining German quality & engineering with American market awareness and responsiveness. All our machines are built under a single roof (not a global master brand) and we're aggressively building our staff to meet growing demand.