Planning for complexity
Complex engineered packaging machines and lines can boost production efficiency - but they can also drag it down. Successful projects require rigorous detailed planning, proper acceptance criteria and commissioning/training, and robust maintenance procedures.
Complexity increases substantially, and the likelihood of long-term success diminishes as multiple pieces of equipment are combined for integrated production lines. Factors range from black & white (signaling, controls) to various shades of gray (successive surge capacity requirements) and cross disciplines including electrical, mechanical, safety and process engineering.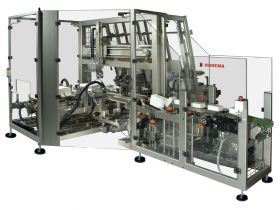 As complexity has increased with higher speed, increased automation and expectation of lean, efficient operations, more CPG packaging projects have failed to live up to the expectations upon which justifications and production planning were predicated.
In response the packaging machinery industry has emphasized the value of single source solutions. However, this term means vastly different things to different people. It generates confusion. When you think of single source, for instance, which of the following do you envision?
all technology procured and resold by an integrator
all components from machines, training, consumables (paperboard, film, foil, adhesive) and preventative maintenance through a single re-seller
machine components from different sources physically integrated at an off site location
common brand & logo
product/service system charging a single cost/package
All are viable models. The substantial variations, though, highlight the need to dig a bit deeper in evaluating packaging solution providers.
Single source vertical form fill seal Machine and end of line packaging
In the vertical bagging realm, single source typically refers to either a common brand of machinery or various equipment integrated by a third party.
As a result the term carries very different connotations for buyers and sellers - and it's important to understand context rather than rely on a term which may be interpreted differently than it's intended.
One example is the use of the term by global conglomerates. Everyone's aware of substantial consolidation in the packaging machinery business over the past decade. Large global brands have acquired a number of niche machine/technology companies to compliment their overall offerings to growth industries such as pharmaceutical and food packaging.
That means that in many cases a single sales rep may sell a line as single source (the logo on the rep's business card matches the logo on each machine) that are actually designed, engineered, manufactured, tested and shipped from entirely different companies. Often those companies have different management, engineering and support teams. In fact they're often even dispersed among not only different factories, but even located in different countries and may communicate in different languages (German, Italian, Japanese, English are common) and design machines using different standards (metric vs. SAE and CE vs UL.)
And then....this single source line arrives at a customer facility in different crates, through different customs brokers, with a hope that integration isn't too problematic. That's one definition of single source.
There's another simpler definition - one team for all machines: design, engineering, manufacturing, acceptance testing, commissioning, training and support by people who share the same cafeteria. In this case not only is signaling clear to a single EE team, but a common HMI simplifies operation. An entire line assembled, debugged and accepted in the manufacturing facility can dramatically improve project outcomes. That's real single source. And in this model the ongoing customer support is often provided locally by native language speakers with deep application and technical knowledge and local parts inventories.
More than a painful install and start-up
But does this matter? Should CPG companies really worry about this distinction? The answer is 'Yes.'
Anyone that's ever lived through the misery of gradual integration can immediately empathize. Missed production delivery dates, cost overruns, persistent skepticism by operators and maintenance and unmet justifications are sadly common. Nearly every facility has experienced at least one of these despite careful engineering planning.
The risks are growing though. As plant engineering and maintenance teams are cut further and further, the few remaining staff and production teams can't support field integration. Lines must arrive tested, debugged and ready to run. True single source - built and integrated under the same single roof - is the only viable solution. (This is one of Rovema's core commitments. It's the reason for significant recent investment in expanding our factory - with more planned.)
The pressure on staffing and resources is increasingly straining maintenance operations. Statistics from the Plant Engineering 2016 Plant Maintenance Survey are noteworthy. Highlights include:
Engineered reliability
The bottom line is clear. Simple semantic confusion (e.g. single source from the same factory and team vs. single source with the same global brand) can make the difference between a predictable commissioning or the unpleasant alternative. But ongoing operations require diligence in the procurement process to ensure that a strong support infrastructure (replacement parts, telephone support, programming capability and field service) are available within a couple time zones and next day delivery.
The trend in maintenance staffing is unlikely to reverse, and quite likely to continue. When you compare machines, including replacement vertical baggers, make sure you consider others' experience with support as part of your decision criteria.
And not only can lines be more efficiently integrated, but existing lines can also be more efficiently operated. Check out or step-by-step playbook for boosting VFFS operational equipment effectiveness in your facility.