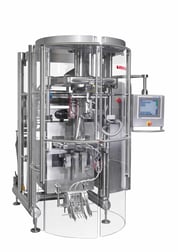 There are numerous reasons why someone may consider a vertical packaging machine for their coffee packaging needs. Your business may be expanding and you need to look at an option that saves on labor and packaging costs while handling the increasing demand. You may have aging equipment that is unreliable and causes excessive downtime. You may be transferring from pre-made, hand-filled bags to automated packaging looking for increased output of packaged product. You may be searching for a packaging system that has a small footprint.
Before making the decision on a vertical bagger for your coffee products there are some key points that need to be researched and considered.
# 1 Gas Flushing Capabilities
The ability to package your product immediately after roasting is an important aspect of maintaining product freshness. Preventing oxygen degradation is the best way to keep your coffee tasting fresh and delicious. This is accomplished through methods, such as Aroma Perm® (Modified Atmospheric Packaging) that lowers your residual oxygen levels.
Minimum recommended oxygen levels are no more than 3%, however industry standards are typically set at 2% or less. Because the end goal is ultimately a great product that provides consumer satisfaction, a vertical packaging machine that offers low residual oxygen levels is a high priority for coffee packaging.
ROVEMA's patented Aroma Perm® MAP packaging technology allows coffee producers to get below 1% residual oxygen in their ground coffee products and below 2% on whole bean products.
#2 Coffee Degassing Valve
This tiny object that goes on your flexible packaging plays a pretty big role. They prevent inflation of your package by allowing gasses to escape. When coffee beans are roasted, gasses build up inside of the beans- about 90% is carbon dioxide, and 10% nitrogen. In the following days and even weeks the coffee naturally "degasses". Coffee degassing valves keep the dreaded oxygen from getting into the bag once it is sealed while allowing the pressure to be released, something that could otherwise lead to a bag that bursts open. Coffee degassing valves can also be used to speed up the transition from roasting to packaging by shortening the amount of time that the coffee is in the WIP (Work in Process) stage.
Degassing valves perform all of these functions with a feature that allows gases to be released and at the same time, prevents oxygen from getting in. While this is typically used on premium retail coffee packages, like Stabilo® (Quad Seal) bags, interest has been increasing around the use of valves on coffee frac packs. For these foodservice coffee bags there is a surface-mounted valve, called a coupon valve, that can be applied at higher speeds which is gaining more momentum with this packaging type. A VFFS machine needs the capabilities to incorporate this application into the line while still running the desired speeds and creating a high-quality bag.
#3 VFFS Machine Run Rate
It goes without saying that you would be looking for a machine(s) that can keep up with the demand for your product. You want to make sure you are investing in a vertical bagger that can do more than meet your production expectations today. It should also match your future growth expectations.
A point to consider is that the improved run and fill rate when transferring from pre-made pouches or installing new machines provides a nice long-term cost savings, which is broken down in the figure below: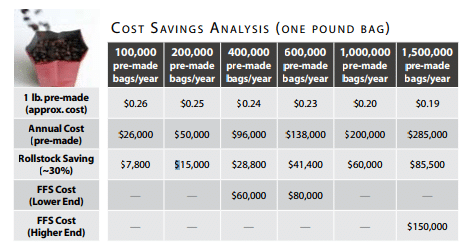 #4 Quality of the Coffee Bean Packaging
The package that houses your product represents your brand and the value you place on your product. It's also likely the first impression you make with a potential customer, even before they get to taste your actual product. With bag styles such as the Stabilo® (Quad Seal) bags, vertical form, fill, seal machines are able to produce sturdy, high quality bags that successfully represent the image you are trying to convey. Even features like an offset seal that provides alignment with the corners of the bag allow a crisp, clean look for the quad seal bag, with unobstructed back panels for graphics and copy.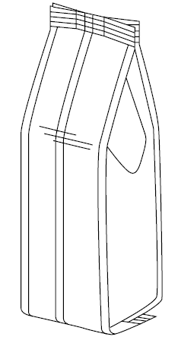 No matter what bag shape or stand up pouch style you decide is best for your product, it needs to have gas tight, strong seals that protect your coffee product. It also should be evenly formed and consistent in size.
You want a machine that can make an aesthetically appealing package with seal integrity, clean knife cut, and will let you know if a produced bag does not meet those requirements.
#5 Quality of the Packaging Machinery
A machine that performs well, with quality parts and features is not only what is hoped for in a VFFS, but it should be expected. After all, achieving optimal OEE (Overall Equipment Efficiency) is the desired outcome for machine operations. Decreasing downtime inefficiencies saves valued labor time and costs.
A properly designed and thoughtfully engineered machine, with quality electrical and mechanical components, can help with film savings and energy consumption as well as labor costs. Overall, it will reduce direct costs and operational stress.
If you're interested, here's more info on exclusive technologies that can maximize your packaging line's effectiveness.
#6 Support and Spare Parts Department
Support you receive after the installation is necessary in order to be truly satisfied with your VFFS. Getting quick and knowledgeable responses on your questions or issues prevents downtime from becoming an issue. And knowing you have that support for the life cycle of the machine is peace of mind. As parts age and need replacement, a knowledgeable team that can quickly assist you is as important for OEE as the quality of the machine.
#7 VFFS Machine Price
The price of a VFFS machine (like anything) varies depending on what you want regarding performance. If your goal is high speed packaging, flexibility in packaging styles and a machine built with a sturdy and expert design, then it may be more expensive than a machine that is geared toward one bag style with lower speeds. The complexity and excellence needed of the machine correlates with the cost. For example, a machine that makes a variety of packaging styles or formats may be more expensive than one that is producing one bag format. We have a VFFS comparison matrix available that lists different performance tiers, features and other deciding factors, if this would be helpful as well.
---
A VFFS machine is an important part of your coffee packaging operations. You will want to feel comfortable and confident in the machine and manufacturer you choose. After all, you will have that machine for years to come. Looking at the key elements described can clarify and help make that choice easier.