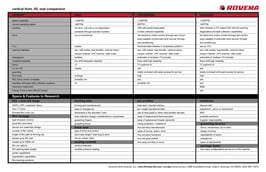 When you are considering upgrading, replacing, or adding a new vertical form fill seal machine the options available on the market can seem overwhelming.
Navigating manufacturers, options, and capabilities can make finding a good V/F/F/S machine fit difficult and time consuming. That's why we've created the V/F/F/S Machine Comparison Chart!
What's in the download?
This chart outlines common attributes for basic, intermediate and advanced categories of vertical baggers. Then it offers a space for you to capture comparative notes on up to three machines that you're considering.
Where can you get your free copy?
Click here or follow the link below to get your free copy of the Vertical Form FIll Seal Machine Comparison Chart.