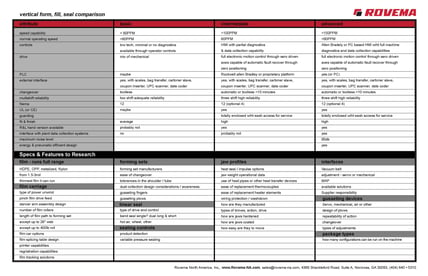 When you are considering upgrading, replacing, or adding a new vertical form fill seal machine to your operation, the options available on the market can seem overwhelming. VFFS Machines are often designed to meet different needs- some prioritize speed while others prioritize flexibility or even modularity.
Navigating manufacturers, options, and capabilities can make finding the best VFFS machine solution for your product difficult and time-consuming. That's why we've created the VFFS Machine Comparison Chart!
What's included in the download?
This chart serves as a template that not only outlines common attributes for basic, intermediate, and advanced categories of vertical baggers, but offers a space for you to capture comparative notes on up to three machines that you're considering.
Some factors for evaluating capital equipment partners go beyond BPMs or changeover times (which of course are crucial).
Weighing exclusive features and even "future-proof" tools like the ability to run different bag styles could be a huge factor in your decision.
Where can you get your free copy?
Click here or follow the link below to get your free copy of the Vertical Form Fill Seal Machine Comparison Chart.