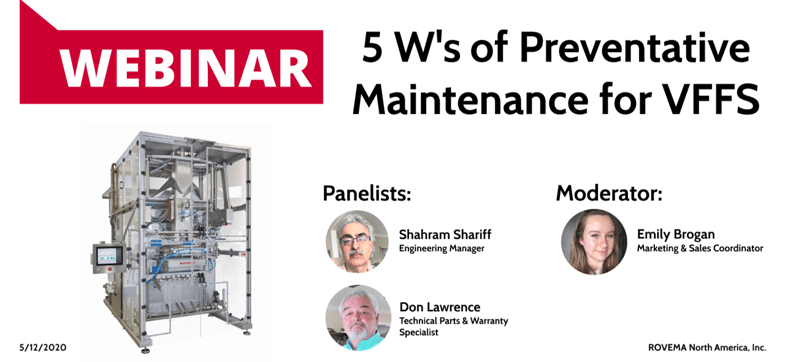 Last week, we hosted a webinar on the 5 W's of preventative maintenance for VFFS Machines. Two of our experts, Don Lawrence and Shahram Shariff walked us through the four foundations of successful PM: consistency, reliable spare parts, team member accountability and the maintenance schedule. They also walked us through the five benefits of upholding these foundations: maintained capacity, spare part longevity, seal integrity, downtime avoidance and lower scrap rate.
According to Don Lawrence, veteran VFFS service expert who has been with ROVEMA for 30 years, the key to upholding the 4 foundations and achieving all 5 of the outcomes that were covered in the webinar came down to the first 10 minutes of the VFFS operators shift. If you happened to miss it, no worries, the full recording is posted here.
We had a great turnout for the webinar and received positive feedback from many of our customers. It was a great feeling to know that it was beneficial to so many, not just in the USA but across the globe.
At the end of the webinar, we held a question and answer session, and received way more questions than we had time to answer so we are sharing them here along with our answers in hopes that it can help even more people with all their VFFS service needs.
Below is the compilation of some of the best questions that we received during last week's webinar:
Are there any food grade solvents that can be used to help the cleaning process, particularly with products containing sugar?

Yes, there is a product available through our Life Cycle Services Team called Elephant Oil that is great for sticky product build-up. This product was designed for this purpose. Just make sure that you do not spray the product on while machine is in motion.

Are there any special maintenance tasks for a ROVEMA bagger handling baking & cake mixes?

There are no particularly special tasks. They should be the same on all machines however, keeping them clean could require a higher frequency of cleaning due to an increase of dust.

What extra maintenance is required for machines with anti-static attachments?

There aren't any particular maintenance tasks that we are aware of other than what will be detailed in your manual. Just be sure to properly shut off the anti-static bars during the process of these PM tasks.

Is there a certain way to clean the rollers for the liquid VFFS machine?

The way Don detailed wiping the rollers off with a clean damp cloth and drying them with a clean dry cloth at the start of every shift will be perfect for a ROVEMA liquid bagger.

Which lasts longer: a Teflon coated band or a non coated band?

For the seal jaws, are alternative coatings to teflon offered such as ceramics?

We have found that ceramic is too brittle and breaks and/or chips off of the jaws due to the high impact, causing seal integrity issues. We use Teflon on most of the jaws for ROVEMA machines but also use a patented process for some jaws called Tfe-Lok

®

which has very high endurance, comparable to hard-chrome and is also anti-static and abrasion resistant.

How often should the drive belt be inspected?

We recommend that all drive belts be inspected every month.

Do you recommend a certain material over the forming collar in order to help the film pass?

No, we do not recommend any sort of material on your forming collar. If you have a ROVEMA machine, the forming collars come pre-coated and do not require any additional material other than keeping them clean and aligned properly.

Do you have any recommendations on how often to add grease into the fittings?

Don mentions in the video that due to grease lasting so much longer the range of your maintenance frequency window and number of pumps could be broad. This is often a monthly task but this a task that your manual will outline best. If your machine requires the use of oil it should be done on a daily basis. You can request a copy of your manual here.

For a pull belt system without vacuum assist what is the most common issue for film slippage?
If you took the time to watch the webinar recording and you had your own question come to mind, shoot it to us! We bet you're not the first to think of it and we would like to add it to this post. You can reach out to us on our contact page or in the live chat.
At the end of the day, consistently performing the recommended daily, weekly and monthly tasks are the name of the game when it comes to downtime prevention and maximizing your OEE over the life of your machine.
But there are other key insight areas you should be considering. Take a deeper dive on VFFS maintenance by checking out PMMI's ProSource article that provides 7 key areas you need to be taking into account for the maintenance of your form/fill/seal equipment.
Stay tuned for announcements on our next webinar topic!