Sustainable packaging materials are becoming increasingly popular, and many of today's CPG brand teams and other stakeholders are evaluating renewable and recyclable film materials for their products. Depending on the longevity of your equipment, your VFFS machine may have been developed without the consideration of these new materials, which means they may need to be adapted or replaced in order to use these sustainable films.
Let's unpack the considerations involved when adapting VFFS machines to use sustainable packaging materials, such as biodegradable and compostable films, recycled PET, and more. As sustainable films become more popular and accessible, and more brands evaluate renewable and recyclable film materials for their products, many of today's pouch packaging equipment will need to be adapted or replaced.
Accessibility of Sustainable Films
Sustainable packaging materials have been on the global radar for decades, but the last handful of years have seen the fastest growth in material options as well as market adoption. It's now easier than ever to procure sustainable films, thanks to a growing supply, and to more and more brands that are choosing sustainable films over traditional materials. One segment, however: recyclable packaging with high barrier properties has been tricky; prior efforts were often one or the other (recyclable or high barrier).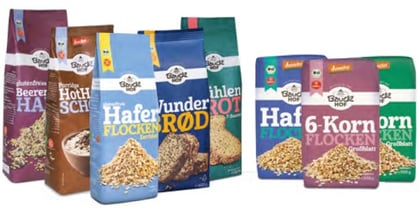 But many of today's most advanced sustainable films can match both performance characteristics. With these combinations now available, it means manufacturers have a wealth of choices when it comes to sustainability.
But it's imperative to understand that many choices come with some unique requirements of packaging machinery.
Understanding Your Requirements
Depending on the specific film, your existing VFFS machine will need to be evaluated to ensure it can meet the parameters needed to run the film successfully and the bag quality needed can be achieved. This evaluation would likely include determining the coefficient of friction of the film material, the sealing parameters of the film, and the film's fragility or tendency to tear or stretch.
It's simple for your packaging machinery vendor to gauge these parameters, but they may require a sample reel to be tested or have a technician come to your facility to run samples to test operator recipes.
Coefficient of Friction
The coefficient of friction of film is a crucial parameter to understand when evaluating any material and is often one of the first specs requested by engineering personnel if a film issue has been brought to our attention by a customer. Friction makes a huge difference in vertical packaging, to the point that many HFFS films can not be run on VFFS machines because of the drastic change in direction that the film takes when breaking over the forming collar.
This is one of the main factors to consider when evaluating paper packaging for your products. The coefficient of friction of plastic film is much lower than paper films, so production tactics and machinery innovations are often coupled with this change to help keep OEE high.
Here is a more in-depth resource around the coefficient of friction of films.
Sealing Parameters
Some advanced sustainable materials that are offered on the market today do a great job of getting you the barrier properties and seal integrity needed to satisfy the needs of your customers and retailers, but some of them have very narrow windows for sealing pressure and temperature parameters that will need to be met to prevent seal issues like weak seals, microfractures or wrinkling.
This would be an important capability to consider of your existing equipment as well as when you're evaluating new equipment, is how flexible your sealing specifications are on your equipment and how that meets your needs today and in the future.
Here is some information on patented two-phase sealing technology that has helped customers around the world to achieve the strongest and safest seals in the industry.
Fragility
While I would still consider tight sealing parameters to be a fragility or sensitivity factor, what we ready mean when discussing fragility in this context is the tendency for films to tear or stretch when cycling through the VFFS machine.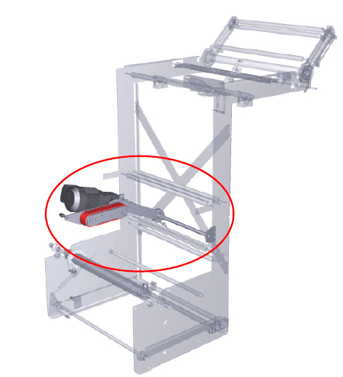 This is a main factor to address when you are evaluating a paper-based film, as its high friction and tendency to tear can make it impossible to run without a few crucial solutions. The two non-negotiables for ROVEMA equipment for running paper films include:
Power Unwind on the back of the film carriage that helps to "push" the film from the back, greatly reducing the stress on the film.

A special forming set that is uniquely engineered for paper materials that often has a different pitch that reduces tension as well as a different texture of the collar itself.
Evaluating your machine's lifecycle stage
If you're considering a drastic change in packaging, it's important to evaluate your machine's lifecycle stage.
For example, if your equipment is at an end-of-life point, where other components like the electrical controls will need to be upgraded soon as well, then it may make sense to invest in a new solution, particularly if its capabilities can help you de-risk a sustainable packaging project. (And potentially get you higher output speeds)
Here's a great resource for navigating the rebuilt vs replace decision, if that's on your mind.
However, if your equipment isn't at that point, you likely have a range of retrofitting options available to you to meet the needs of your new film.
Retrofitting and "Green Upgrades"
A variety of upgrades or retrofit kits are available to adapt existing ROVEMA VFFS machines to run sustainable packaging materials. Depending on the specific needs, these bagger changes are at varying complexity brackets.
For example, going from a traditional plastic film to a plastic-like renewable film may only require a new recipe to achieve great seal and bag quality. Alternatively, switching from a plastic film to a paper-based film requires a more involved retrofitting project due to the film's considerations we unpacked earlier.
This handy chart below to can help you to understand (for ROVEMA VFFS machines) the capabilities and range of retrofitting projects.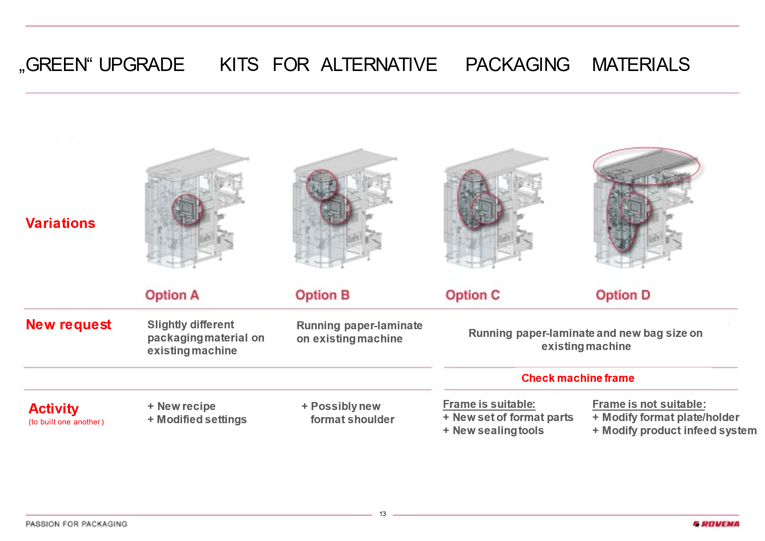 Continuing Packaging Education: Paper Packaging Guide
For more information around the market considerations and operational implications of navigating sustainable and renewable packaging materials, our free paper packaging uide is a great place to start for a deep dive, not just for paper but for the entire nuanced discussion around sustainability in today's climate.
Of course, if you have any questions on the topic or need help evaluating a sustainable material for your equipment you can chat with us in the help box 👉👉 or by getting in touch with our experts at our contact us page.