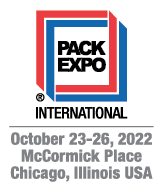 Come by and see us at Pack Expo International in Chicago!
Location: Chicago, IL
Booth: 6251 Click Here to View Interactive Map
Date: October 23-26, 2022
Guest Pass Promo Code: 34J68
ROVEMA has been producing technology advanced packaging machines for over 6 decades with the experience of about 30,000 machine installations world wide. This subsidiary, ROVEMA North America is located in Norcross, Georgia and provides Sales, Service and Spare Parts support to ROVEMA's entire product line, including: servo driven Augers and Cup fillers, extensive line of Vertical, Form, Fill Seal machines, Cartoning, Case Packing equipment and Total System Solutions.
Rovema is a global leader in the vertical form fill and seal packaging machine industry. Based in Fernwald, Germany and founded in 1959, over 60 years of innovation has brought many excellent technologies like Sense & Seal®, Premium Seal®, Stabilo® and Aroma Perm® to CPG companies around the world.

As a trusted partner to many multinationals, our solutions-based approach has helped get their products to the market safely and efficiently for decades. Because of the "no end of life" ideology surrounding our Lifecycle Services segment, many of the machines in the North American install base are even 30-50 years old and we still support them with Rovema maintenance and spare parts.
ROVEMA has dedicated personnel that are innovative, forward thinking and dedicated to improving our service to our customers. ROVEMA has an international reputation as a manufacturer of technology advanced packaging machinery for a wide range of products, food and non-food applications.