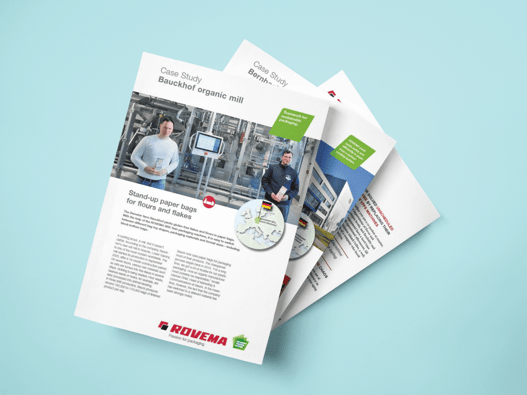 At Rovema, our primary focus has always been on our customers' success. We understand that every CPG company has unique needs when it comes to their packaging processes, and we take pride in our ability to provide tailored solutions that help our customers achieve their goals- and wow their own customers.
In this blog post, we've compiled a variety of case studies that specifically showcase how businesses have reduced the use of packaging materials, transitioned to renewable and recycle-ready materials, and increased automation. These real-world examples demonstrate our commitment to delivering solutions that not only meet but exceed expectations.
So, whether you pack powders, bag biscuits or pouch pasta, we invite you to read on and discover how Rovema's packaging solutions can help take your business to the next level.
La Molisana: Short Cut Pasta
Italian pasta manufacturer, La Molisana, needed to establish new production capacities due to the company's growth. They opted for the SBS 250 machine, which includes two baggers and can achieve a doubled output rate of up to 160 bags per minute.
The SBS 250 can process nearly all heat-sealable packaging materials, including biodegradable and new packaging materials that aim to reduce plastics. Additionally, the machine can process materials from renewable resources, such as paper. The SBS 250 offers investment security for the future since it can process traditional mineral oil-based plastic films.
Dr. Flavio Ferro, Chief Operations Officer at La Molisana, soon expects a further, drastic change in design: "In my opinion, a change to paper packages could be necessary in the
near future. In politics and in the society, plastics are currently being demonized – and we are following this development with great interest. We cannot ignore this global campaign against plastics, although the usage of paper will require the felling of trees".
Read the full case study here>>
Bauckhof Organic Mill: Grain Products
Bauckhof Mill faced pressure from their customers to find a sustainable way to package their gluten-free products. The company received criticism for its plastic packaging, which did not align with its organic image.
"For a long time, we got a lot of trouble for our plastic
packaging. How an organic manufacturer could possibly be responsible," recalls Hannes Öhler, Head of Marketing &
Communications at Bauck.
The case study describes how Bauckhof Mill partnered with ROVEMA and paper film supplier, sappi, to introduce a paper stand-up pouch for their powder and flake products.
This solution met the sustainable packaging expectations of customers and the OEE requirements of the operations team. The case study outlines the collaboration process and the benefits of using this packaging solution.
Read the full case study here>>
Bernbacher: Dry Pasta
Bernbacher, a leading German pasta manufacturer, wanted a solution that would enable them to meet customer demand for sustainable packaging for their premium pasta products.

They integrated existing ROVEMA machines into their new building ten years ago and began the process of switching to paper in 2018.
They encountered challenges in the process of converting to more sustainable packaging materials, but in working with the ROVEMA Life Cycle Services team, were able to adapt the machinery to reliably run their renewable film materials. By switching to paper packaging materials, Bernbacher is reducing its environmental impact by reducing the amount of plastic packaging waste they produce.

Read the full case study here>>
Quaker Oats- Cruesli Cereal Products
Quaker Oats Rotterdam, a renowned cereal manufacturer in Europe, considers packaging as a crucial marketing tool that not only provides product protection and optimizes transportation but also offers advertising space for recipes.
With growing interest among consumers in sustainable solutions, packaging sustainability has become a critical factor, including whether consumers understand and accept the chosen packaging form. Quaker Oats recognized the advantages of the Bag-in-Box solution in terms of recycling.
"The separation of plastic and cardboard in a Bag-in-Box solution is intuitive and understood by most consumers. Of course, the positive consumer perception of cardboard also played a role in our decision", says Jacob Bruil, SR Maintenance Manager at Quaker Oats.
Read the full case study here>>
Continuing Education
We hope that the case studies we've shared in this post have given you a better understanding of how Rovema's packaging solutions can make a real difference in your pursuit of greater sustainability in your business. When you're ready to start looking for a trusted partner to help you optimize your packaging processes, we hope you'll consider us.
Until then, we invite you to explore the additional resources such as guides, webinars, and additional case studies in our resources page that address a wide variety of other sustainable packaging topics.