Many industries are feeling the large wave of disruption that flexible packaging is causing. But out-of-the-box approaches and improving technology are providing new opportunities for companies to move forward and get a leg up on their competition.
A recent article in the Wall Street Journal describes how small companies in the food, beverage and consumer packaged goods (CPG) market are displacing revenue from more prominent, established brands like Unilever and Campbell Foods. The article points to American consumers becoming more adventurous in the grocery aisle and, in some instances, buying $10 fruit juice products.
New players are disrupting these larger companies and causing them to revisit the entire product life cycle process. Demand for quicker research and development, in-store processes, supply chain optimization, consumer feedback and, of course, manufacturing optimization is at an all time high and that translates to big changes in the marketplace.
Retail stores and online giants, like Amazon, are also exerting pressure. In 2017, Wal-Mart made a big splash with the introduction of two-foot-tall robotic shelving units to identify either missing, mislabeled or mispriced items. This robotic application scans and checks aisles to employ better monitoring of goods to alleviate inconsistent routines by traditional workers. But for now, human employees still do the actual restocking.
Retailers and Grocers move to shelf ready packaging
Walmart, along with Kroger, has implemented new requirements for retail ready packaging (RRP) and shelf-ready packaging (SRP) (or "pretty darn quick (PDQ)" as a Wal-Mart executive recently put it). Mass retailer and club store business models want easy-to-stock displays for end caps, pallet wraps, multi-packs and more, as documented in the recent Rovema and Vanguard Packaging "Shelf Ready Packaging Guide" from 2017.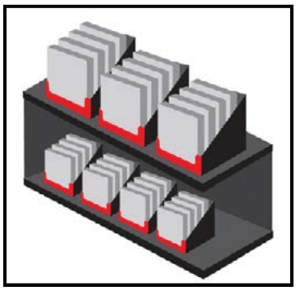 The SRP value proposition presents a two-in-one packaging combination with an outer tray foundation and primary packaging inside. The tray, which can be a shrink tray or 5-panel RSC, help personnel in the back of club stores and distribution centers find these products. Of course, the primary packaging design and execution is crucial for conversions, and that's where stand-up pouches have a distinct advantage.
Shelf appeal is now more critical than ever as consumers become more fragmented from established brands and begin relying more on point-of-sale information to make decisions, like the clean-labeling trends. Consumers are also leaving brand loyalty in the dust. As the 7th largest brewer in the U.S.,Deschutes Brewery has seen the many benefits of this trend.
"Many craft beer consumers are just looking for variety and don't have a lot of brand loyalty," says Brian Faivre, brewmaster, Deschutes Brewery at a recent OSIsoft conference in Germany. "These consumers keep moving from one product to another, continuously searching for the "next new beer" to share with friends."
Market changes tie primary and secondary packaging together
One way for consumers to rediscover products in the club store is via high-quality primary packaging graphics combined with the tray pack. "Shelf appeal and merchandising stand to gain from supportive graphics on the master package, and some creative teams are using the opportunity to create complimentary graphics between the primary and secondary package," according to the Rovema SRP Guide.
A recent 2017 Flexible Packaging Association (FPA) study also shows how the value component with flexible packaging is bedrock during this time of market change. "Approximately 60% of consumer respondents said they would be willing to pay more for tangible, functional packaging benefits, such as the ability to reseal and extend product life while easy to store and open," according to the FPA study.
With all these dramatic upstream industry drivers, food, beverage and CPGs have been making gradual investments in automation technology and modernizing packaging lines by retrofitting older form/fill/seal equipment or new machine buys as end users identify the need for higher throughput.
As mentioned in a recent post about retrofits, some end users are looking to OEMs and automation vendors for electrical conversions of existing equipment. Reduced costs and more power from programmable logic controllers (PLCs), motors and Human Machine Interfaces (HMIs) are pushing end users towards upgrades and also future-proofing operations.
While throughput is sometimes the immediate goal with new capital equipment, end users are looking to OEMs to be a more significant partner and help with critical decisions on actual product creation.
At the recent Manufacturing in America (MiA) conference, a panel of food experts discussed how networking advances and lightweight monitoring platforms, such as supervisory control and data acquisition platforms (SCADA) are making inroads into packaging production areas. In the past, SCADA programs were cost prohibitive for both process and packaging production areas. But today predictive maintenance for equipment and production lines has arrived and companies are employing such technologies to collect important data and improve production.
Also on the horizon for food and CPG producers is the use of digital simulation platforms, known as digital twins, that can provide immediate feedback to a research and development (R&D) teams on new product iterations and packaging types.
The critical enabler with this solution is an open IoT platform that allows many partners to participate in product planning or creation, such as OEMs and system integrators while being able to identify the right plant or packaging line to be used for a new product introduction.
With modern advancements in equipment and production lines, flexible packaging seems to be the versatile product of choice for both consumers and manufacturers.