In today's age of information, consumers are demanding as much information as they can obtain when making decisions. Whether it be about the environment of the chickens that laid the carton of eggs they buy or the origin of their coffee beans, the market continues to expect more transparency and accountability, as conversations around food safety and general skepticism of ingredients become more common.
The topic of supply chain visibility is not new in the business world. Every natural disaster, recall, or other supply disruption quickly exposes any vulnerabilities. Examples of these issues might include:
Inability to pinpoint specific batches of WIP affected by a recall of a particular ingredient- so the plant wastes money tossing everything, just to be safe.
New governmental audit requirements for traceability of food cause shutdowns or fines.
As businesses grow, and more data points are entered and managed manually, the risk of inaccuracies and the cost of these errors grow exponentially.
The supply chains of today's multi-billion dollar corporations are incredibly complex, and the investments that these companies make in software to manage them have the potential to have rippling benefits, both up and down the chain. These programs add more than just visibility but add accountability- not just for producers but for their vendors as well. The data often turns into a safety net when navigating disruptions.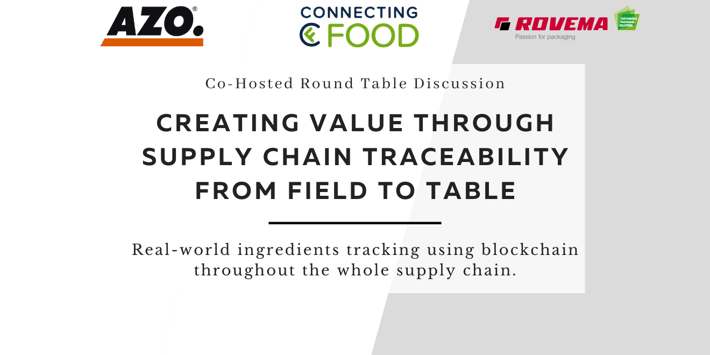 On June 15th at 11 am EST, the companies Azo, Connecting Food, and Rovema are coming together for a round table discussion around what powers supply chain visibility and will walk through several scenarios where this data can be leveraged to both help companies quickly navigate crisis' but also add value to everyday production.
Even more than that, all data tells a story. Supply chain visibility enables companies to leverage the data in a way that adds value to the customer experience with their products, like being able to list the farm name on a product. These systems have the potential to bring supply chain and marketing and merchandising teams together in a way that meets many of their goals.
Marketing, brand management, supply chain, and operations professionals should plan to attend this discussion, and bring their own questions as well, to ask the panel of experts from any of these three companies. Anyone who would like to attend can find more information and register for free at this link.
About Rovema North America
Rovema NA is a wholly owned subsidiary of Rovema GmbH. Our operation in Atlanta is the North American sales, service and parts presence for all of Rovema's engineered vertical form/fill/seal and end-of-line packaging solutions.
With over 1,000 machines installed in North America, we're fully committed to the ongoing support of our machines. Although occasionally certain drive or control components are obsoleted by our suppliers, we provide all available parts and ongoing technical support for any operating Rovema machine.
Our team in Norcross is combining German quality & engineering with American market awareness and responsiveness. All our machines are built under a single roof (not a global master brand) and we're aggressively building our staff to meet growing demand.
www.rovema-na.com
About Connecting Food
Connecting Food is Europe's #1 Food Transparency blockchain. Founded in 2016 by agrifood experts, the French company now has 30+ employees located in their Paris, France and Milan, Italy offices. Used by agrifood businesses across the value chain, Connecting Food's collaborative business platform creates added value to agricultural data from farm to fork. Its fully digital quality and audit module, LiveAudit®, enables its clients to prove their commitments and create value for the end-consumer.
www.connecting-food.com/en/
About AZO
AZO, Inc. engineers, builds and installs components and complete systems for bulk material handling requirements. A wholly-owned subsidiary of AZO GmbH, the company supports U.S. customers with technical support from its Memphis location and rapid parts delivery. AZO equipment is used in companies ranging from small, family-owned businesses through the world's best known industrial and consumer products companies. More info about our company, as well as common questions related to the world of ingredient handling, can be answered on our company blog at https://www.azo-inc.com/blog.