The Rovema North America website was refreshed to launch new educational tools to help visitors, such as a library, to navigate the large collection of packaging resources like the OEE Guide, bag style webinar, troubleshooting blog posts and several industry specific whitepapers.

Modernized and Efficient
Rovema North America, the North American sales and service hub for Rovema GmbH, a global vertical form fill and seal machine manufacturer, has announced the launch of their newly refreshed website.
Along with a modernized look, the website is thoughtfully reorganized to be more intuitive and efficient to navigate for their CPG customers. These customers today rely heavily on conducting their own research when navigating their buying journey and in a study conducted in 2018 by the Miller Heiman Group, almost half of buyers identify the specific solution they are interested in before reaching out to a selling party for additional information.
With these preferences in mind, Rovema North America's VFFS experts continuously publish free resources and data to educate buyers on the intricacies of Rovema's technical solutions and help them make informed decisions when choosing the best VFFS solution for their products.
With the refreshed site, the integrations of industry specific pages that serve as a research and technologies launchpad, as well as the new resource library that makes it simple for visitors to maximize their learning experience.
New Resource Library Tool
Along with the launch, the new resource library tool was integrated to organize their large library of e-books, webinar recordings, case studies, infographics and data sheets in order to allow users to search by topic, industry or resource type.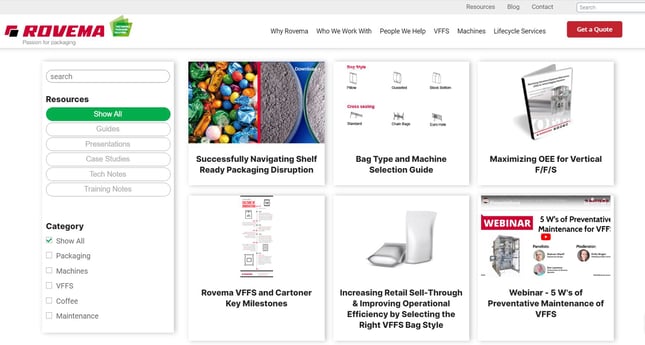 "I am excited about the new resource database tool. I believe that it is going to streamline the prospecting process for potential customers but also allow our current customers the ability to search our support resources. Making sure our current customers receive five star support is always our first priority so I think this is just another way we have aligned with this goal." - John Panaseny, CEO Rovema North America, Inc.
Best VFFS Solutions By Industry
From their 60 years of operation, Rovema has a deep understanding of each industry of their install base. Industry specific pages on their refreshed website, like coffee, pasta or liquids now detail exclusive technologies, industry priorities and irritations as well as consolidate applicable resources.
These pages can now serve as a launchpad for customer research. For visitors, if any questions arise or when they decide they are ready to consult with an expert, they can submit a request for a quote directly or can chat with Rovema consultants live online in the chat feature.
Sustainable Packaging Solutions
Earlier in the year, Rovema GmbH, in pursuit of it's sustainable packaging solutions principles, issued new resources, branding, logo and long term programs to support and inspire their customers to explore sustainable initiatives throughout the entire supply chain.
With the launch of the new website design, Rovema North America aligned with the Global rebranding and continues to support these initiatives for the North American region.
No End of Life
Rovema, as an organization, stands behind their "no end of life" principle. No matter the age, their VFFS service segment continues to support any machine with Rovema parts and technical support, allowing machines to run at their full efficiency potential for decades.
This pillar of Rovema's engineering culture is echoed throughout the new website design. Rovema builds machines with no planned obsolescence, and believes that the environmental impact over the life of the machine can be greatly reduced by building VFFS machines to last for decades.
To check out the new site and to learn more about Rovema's family of packaging machinery, you can visit www.rovema-na.com.
About Rovema North America, Inc.
Rovema NA is a wholly owned subsidiary of Rovema GmbH. Our operation in Atlanta is the North American sales, service and parts presence for all of Rovema's engineered vertical form/fill/seal and end-of-line packaging solutions.
With over 1,000 machines installed in North America, we're fully committed to the ongoing support of our machines. Although occasionally certain drive or control components are obsoleted by our suppliers, we provide all available parts and ongoing technical support for any operating Rovema machine.
Our team in Norcross is combining German quality & engineering with American market awareness and responsiveness. All our machines are built under a single roof (not a global master brand) and we're aggressively building our staff to meet growing demand.
www.rovema-na.com.