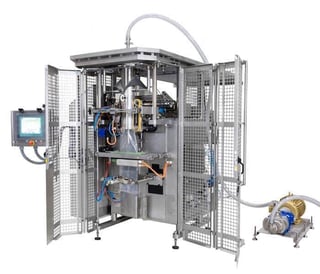 Editors Note: This blog was originally published in October of 2016 but has been edited and republished with additional content around this topic.
Over the last several years, many liquid food service manufacturers have replaced their rigid #10 metal can with flexible packaging to reduce overall cost, increase sustainability, and reduce liability by eliminating a sharp edged container. When a food manufacturer makes the decision to change from rigid to flexible packaging, they must have the confidence to guarantee their customer base that the new package style and product will still meet the customer's quality requirements.
In the past, flexible packaging wasn't a justifiable solution for liquid products due to the capabilities of film materials but thanks to the innovations of film suppliers and collaborative testing with machinery manufacturers, flexible packaging materials are up for the task. Film suppliers have conducted many tests and studies to prove that a high oxygen barrier material can be a better overall solution than a metal can or even a plastic or glass bottle. But, what about the automatic packaging equipment?
Flexible Liquid Packaging Solutions
Once a proven film structure has been determined, food service manufacturers must research and conduct due diligence to find a reliable vertical-form-fill and seal machine that can meet the stringent requirements in liquid packaging. These requirements range from weight control, seal strength to eliminate leakers, throughput, and reduced head space in the package.
Anyone familiar with the food service VFFS market knows that packaging a liquid food product (with or without particulates) imposes steeper challenges than packaging a dry product. The bottom line: liquid packaging is unique and allows no margin for error when it comes to seal integrity. A single defective bag can be detrimental to a production line resulting in costly down time and can be damaging to a customer relationship as well. A liquid bag with a leaker can sabotage a shipping case or even a pallet, resulting in costly consequences. No one will happily deal with a two-gallon pouch of soup on the floor of a busy restaurant kitchen.
What are Squeeze Rollers and How Do They Make a Difference for Liquid Product Manufacturers?
When researching a VFFS machine for food service liquid packaging (with or without particulates), an important feature to be on the lookout for is a squeeze roller assembly that is stationed just above the horizontal sealing jaws. The squeeze roller assembly should have two (2) sets of rollers, upper and lower. The upper rollers a.k.a. "staging rollers" rotate freely and do not touch when they are engaged. Their function is to "pre-clean" the seal area prior to the horizontal cross sealing jaws making contact with the film to produce a top and bottom seal. The support rollers are highly beneficial for a product that has larger particulates. The bottom rollers are the heart of the process and play an integral role in liquid packaging. A quality VFFS machine will typically use servo technology to drive the bottom squeeze rollers. This being the opening-and-closing motion of the entire squeeze roller assembly and the rotation of the bottom rollers.
Here is a video of the squeeze rollers in action:
What crucial tasks do squeeze rollers perform when packaging liquid on a VFFS machine?
The bottom squeeze rollers have three (3) functions to ensure a quality package and reliable execution during production:
1. Clean the seal area
When the bottom squeeze rollers come together, they clean the seal area of the moving film after product filling but before sealing. This will ensure there is no residual product in the seal area when the horizontal jaws make the top and bottom cross seals. Simply stated, a clean seal area will result in a strong seal preventing channel leakers in the horizontal seals, which is easily the most important attribute of liquid packaging.
2. Ensure Weight Accuracy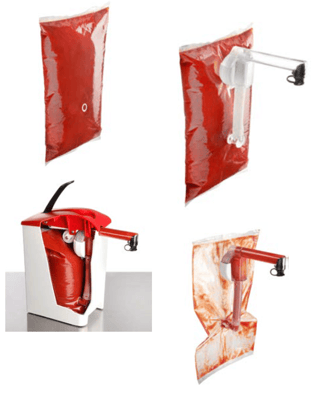 Rotary lobe or twin screw positive displacement pumps are typically used in VFFS liquid applications to meet increased throughput requirements, especially with the emergence of continuous motion technology in the liquid food market sector. Traditional single lane metering piston pumps are extremely accurate but are a limiting factor for increased speed requirements. With the use of a positive displacement pump, the opening and closing of the bottom squeeze rollers meter the product into the bags. As the squeeze rollers close, they "pinch" off a column of product in the film tube and then open to release the column of product into the bag as it is being formed. The cycle is repeated for the next bag.
This process dictates the bag weight and its accuracy. The precise timing and positioning (open and close) of the squeeze rollers are critical for weight control. This is the reason why a servo controlled squeeze roller assembly is essential for fill weight accuracy. Typical accuracy achievable with a servo controlled squeeze roller station is +/- .5% to 1% with products that contain no or small particulates (i.e. Mayonnaise, sausage gravy, ketchup, pizza sauce). Products with larger particulates (i.e. Macaroni & Cheese, shredded meat) typically yield an accuracy of +/- 1.5%. As an added benefit, a downstream check weigher can be integrated into the line with feedback to the VFFS for auto weight correction.
3. Air Removal = Reduced head space
Reducing head space and eliminating as much air as possible from the bag is imperative in the liquid and pumpable products market. The squeeze rollers act as an over sized air deflator to remove, or "squeeze", excess air out of the bag. A VFFS machine that does not feature squeeze roller technology has a significant amount of air in the bag with a longer cutoff length. The longer cutoff length results in more film consumption and added overall operational costs and waste. With increased air removal, food manufacturers that freeze their product tend to have consistent, uniformed shaped bags that make for easy and efficient case packing.
Can ROVEMA Support Your Liquid Packaging Needs?
If you have a current project for packaging liquid food products with or without particulates, focus on a proven VFFS machine that is specifically designed for these special applications, such as our BVL-310 continuous motion VFFS bagger equipped with squeeze roller technology. Below is a full video demo showing the additional features that this VFFS machine can contribute to your liquid packaging operation:
Don't assume that any VFFS machine that can efficiently package dry products can do the same for liquid. There are exclusive sealing technologies as well that set ROVEMA VFFS machines apart that help customers to succeed in making the switch from rigid to flexible liquid packaging.
We at ROVEMA would like to hear from you if you are navigating any challenges, projects or even just need consultative support for your packaging operation. You may even find helpful recommendations in our new Liquid Packaging Guide that unpacks the cost-savings and sustainable packaging considerations for flexible liquid packaging.