In the food service industry, liquid and pumpable products from creamers to salad dressings to sauces must be packaged safely and deliver a high-quality experience to consumers. When consumers and producers think of packaging for liquid products, they likely think of glass or plastic bottles or aluminum cans.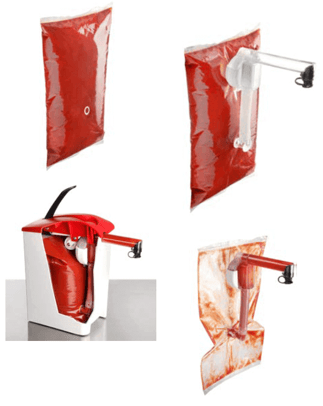 That is changing. particularly in the food service or institutional space for a variety of reasons.
When selecting any packaging, it's crucial to select one that works well with the product being shipped, can store contents safely, reduces waste, and minimizes costs to benefit both you and your customers. Recently, along with the extensive liquid packaging guide, ROVEMA announced the latest flexible liquid packaging capability of adding a fitment to these packages. Let's break down the purpose and function of fitment and how it is applied to your flexible liquid packaging.
What is a fitment for a liquid bag?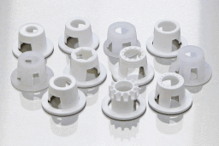 A fitment is a plastic socket that is applied to flexible packaging that allows the bag to be later combined with a reusable spout or dispenser. There are a wide variety of different fitment designs on the market, all of which ROVEMA can currently apply to liquid packages.
How is the fitment applied to the film?
The individual fitment components are fed into a vibration pot at the film reel carrier and then are transported and correctly oriented in a tailored guide to the sealing station.
The single fitments are then separated, placed at dispensing position, and are then sealed onto the film (inside) by heat-sealing.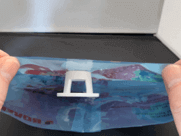 It's important to note that the adherence process does not use hole-punching and the film and sealed fitment are transported over specially designed rollers, forming collar and slotted format tube.
What products are markets are a good fit for these types of packages?
The use of fitments widens the range of applications for flexible liquid packaging into new markets. The unique design of fitments allows producers to use small amounts of product over time yet empty the bag almost completely (as shown above).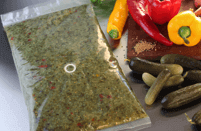 Most commonly, flexible liquid bags with fitments are used for condiment dispensing in restaurants and food service environments - like ketchup dispensing. But a broader range of sauce dispensing is also gaining recognition, such as Ghiradelli using a dispensing system for their gourmet chocolate and caramel sauces.
With a wide range of fitment options, like re-closeable spouts or even different shapes that prevent blockages, producers are continuing to think creatively about how to use these flexible packaging capabilities.
For more information on using flexible packaging for liquid products, check on ROVEMA's detailed liquid packaging guide, and feel free to chat in or submit any questions you may have on a specific solution.