Every machine can have down-time. Our mutual goal is to reduce it to the absolute minimum. A good spare parts inventory and proper preventative maintenance are the basic "blocking and tackling" of machine reliability.
There's another that often get's overlooked, however...training.
Sure, you've got operators that learned from someone that learned from someone that attended the original commissioning training. That's what typically happens with turnover in plants.
Your maintenance team is strong too. They know machines and can figure out what to do.
What if you had a maintenance team member and a key line leader that were both trained and certified by the Rovema factory. Maybe even certified in programming the machine?
You'd cut your break fix response time to the length of the walk across the factory, you'd know that set-ups were optimized and that the machine was working at peak efficiency.
Most customers tell us that the cost of downtime is measured in thousands of dollars/hour. That's expensive. Much more so than training.
We've got programs that can not only reduce downtime and improve line operations for your organization, but they can be a great employee benefit too. It's a way to recognize key and valued workers with an exciting opportunity.
And in today's market, keeping top workers happy is critically important - that it improves your results is icing on that cake!
We've got some great programs to make that happen. This video has the highlights.
Factory training is available at the Rovema factory in Germany, about an hour from Frankfurt Airport.
All training is conducted in English, and we'll handle all the details for them on the ground including airport and daily transportation, hotel reservations, meals etc. All you'll have to do on your end is issue the PO, buy their plane ticket, and make sure they have a valid passport.
Our Concept
The ROVEMA training is presented in a modular way to allow for a flexible adaptation to individual customer requirements. Theory and practice are connected in an optimal way and support joined-up and interdisciplinary thinking.

Two training approaches allow you to participate in both individual training and mixed customer group training .

Opportunities for our best training are at our manufacturing facility in Fernwald, Germany. We are convinced that this offers you the maximum benefit because it provides your personnel the opportunity to ask questions to our experts with the most experience. However, upon request it is still possible to carry out a training on your site.
Upcoming events
Training for mixed customer groups
We offer training for mixed customer groups about machine control/programming and form, fill and seal machines – each year on fixed dates at ROVEMA in Fernwald. Secure your place now for the right 2019 course.
| | |
| --- | --- |
| Course | Date |
| Control/Programming | 2-4 April, 2019 |
| Form Fill and Seal Machines (BVI, BVC, BVC Flex) | 24-26 September |
| Control/Programming | 26-28 November (Yes, overlapping US Thanksgiving) |
| Form Fill and Seal Machines (BVK, BVI) | 10-12 December |
So, what's it cover?
With a small group of 3-4 people, the 3 day programming course covers:
machine functions
machine operation (basics)
standard settings
safety concept
electric components
circuit diagram
fault repair
programming software
program features
program structure
evaluation
closing meeting
With a group of 4-8 people, the operators/maintenance training covers:
standard settings
safety concept
cleaning and maintenance (basics)
quality inspection of the packaging
evaluation
closing meeting
PLC P@ckControl (old HMI; special topics about the new ROVEMA HMI possible)
Individual trainings
We offer individual trainings for your staff from the areas of operation, maintenance, electronics and machine control/programming. Duration, content and language of the training will be customized according to your machines and requirements. In addition to having more flexibility regarding the composition of your training, you have the possibility to order multimedia-based training material especially for your machine. This includes professional videos which illustrate individual work steps and thus facilitate an efficient and long-lasting transfer of knowledge.
Your benefits

Multimedia-Based Learning
Innovative video material illustrates individual work steps.

Increased Efficiency Trained personnel are the key to an efficient operation of your ROVEMA machine, generating process reliability and security of investment for your company.

Professional Documents Illustrative and informative training documents clearly summarize the lessons learned and thus enhance the self-learning competence of your personnel.

Effective Programs Theory and practice are connected in an optimal way and support joined-up and interdisciplinary thinking.

Training as Motivation Certified staff are motivated staff. This ensures a better availability of your ROVEMA machine.

.Profound Know-How Experienced trainers pass on their comprehensive knowledge to your personnel.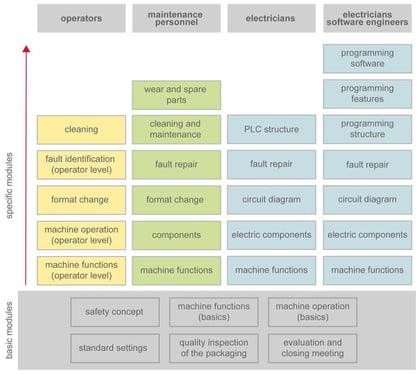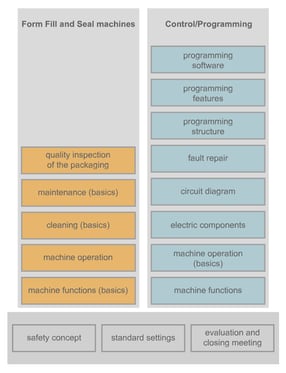 Training for single customers (user focused) Mixed learning groups (topic focused)