Intermittent or Continuous Motion Cup Filling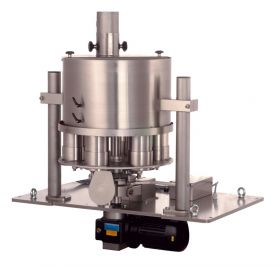 The most reliable method of dosing
Continuous or intermittent operating modes for free flowing, small piece and granulated products.
The VDD volumetric dosing is a simple unit proven in daily use. The technology is continuously optimised and is robust, reliable and nearly maintenance and wear free.
Depending on product and speed requirements the dosing and discharge functions can be executed continuously or intermittently. The product storage hoppers are always designed according to product characteristics.
Highlights:
Frequency controlled drive
Adjustable telescopic dosing cups to control the volume
Product specific design of hopper
Machine shrouding for dust-free dosing on request
Individual control of all functions integrated into machine control
The VDD is available in two sizes with intermittent and continuous motion configurations.
Spec

VDD 5
VDD 6
Speed Max (CyclesPM)

100* / 180**

50* / 80**

Volume (min-max)

7 - 1,900 cm

3

70 - 7,500 cm

3
Accuracy

0.2 - 2 %

0.2 - 2 %
* flap execution
** drag disc execution