With a ceremonial laying of the foundation stone together with 60 invited guests, the construction of the new assembly hall, measuring 35,000 sf, has started. As of June 2019 the final assembly of the packaging machines and –lines will take place in the new building at Rovema's headquarter in Fernwald, Germany.
The new building project will allow Rovema to implement a couple of production optimization measures, particularly ensuring the smooth flow of materials. A new laser-cutting machine with fully automated warehousing system will be installed. The ceiling height of 15 m will allow the usage of a double crane system, enabling modern and efficient processes. As in the production extension in 2016 (10,700 sf), the new building will be connected to the existing hall and is built of pre-assembled ferroconcrete parts, fulfilling the recent regulations for heat insulation. A later installation of a photovoltaics system is planned.
"Sustainability is one of ten investment criteria of the Haniel Group", explains Stephan Gemkow, Chairman of Haniel's Management Board and Chief Human Resources Officer.
During the festivities, Dr. Helge Braun, Federal Minister for special affairs and head of the German chancellery talked to Rovema's guests. He reports of the impressive concentration of educational facilities around the German headquarter and Germany's high innovation potential in international comparison. Braun is convinced that a company can succeed in the market with environmental technologies and sustainable ideas. Especially due to his background as a doctor, he reminded the audience of the importance of a high product quality at consumption – possible through high quality, hygienic packaging. In regards to the current discussions on plastics and plastic recycling in the media, a further important factor to consider!
The investment of about 8 million Euros is necessary to come up to the positive order trend. In addition to the new production hall, Rovema will build new car parks and a bypass for the fire brigade. In 2017, the company had a turnover of € 102 million. For 2018, € 110 turnover is expected. Rovema currently employs a staff of 650 employees worldwide.
Profile ROVEMA
ROVEMA GmbH, Fernwald, Rovema is a global packaging machinery supplier that offers best-in-class products employing German-engineered excellence, forward-thinking innovation and optimal customer service. Markets served include bakery, cereal, confectionary, snack foods, frozen foods, dry powder and coffee, among others. The company manufactures and supplies equipment for dosing, vertical form-fill-seal (FFS) pouching, cartoning, and final packaging, as well as fully integrated turnkey systems. For more information, visit www.rovema.com or please contact your local sales representative
Since November 2017, Rovema is part of Franz Haniel & Cie. GmbH, Duisburg.
Fig.1: The planned new production hall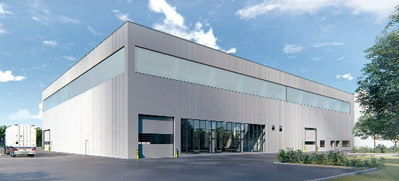 (From left.) Rovema CEO Peter Baumgartner, Mayor Stefan Bechthold, Chairman of Haniel's Management Board Stephan Gemkow, Federal Minister Helge Braun und Rovema CFO Ralf Buch place the foundation stone.