Intermittent Motion Vertical Form/Fill/Seal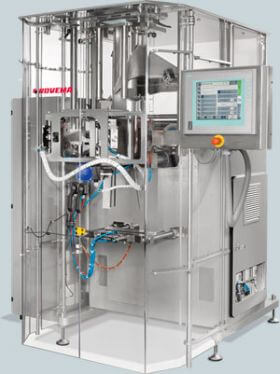 No matter if it's frozen food, cereals or short cut pasta – this machine ensures economical packaging and safe handling of coarse, granulated, paste-like or liquid products.
Highlights:
The wide size range and 'suit-to-application' add on modules enable the machine to pack and produce large variety of products and bag styles.
Vacuum draw down belts for packaging material transport for the safe handling of a wide range of materials.
Sense&Seal function to avoid product inclusion in cross seal and to protect jaws and cut of knife. For increased efficiency and reduced maintenance.
Wear-free servo motor based main drive for the cross-sealing station.
Sealing time, sealing force and jaw aperture of the cross sealing station can be free configured and stored in machines control system.
Budgetary Pricing:
Whether you're putting together plans for next year's budget or getting ready to order equipment, you'll need some accurate budget numbers. And we're guessing you probably want them promptly!
We can help.
We'll turn around budgetary proposals within two working days if you complete the simple form below.
The BVI is available in three chassis sizes (180, 260 & 400) for different package size formats.
| | | | |
| --- | --- | --- | --- |
| Spec | BVI 180 | BVI 260 | BVI 400 |
| Speed Max (BPM) | 120 | 120 | 100 |
| Package Min (mm) | 50 | 60 | 80 |
| Package Max (mm) | 180 (220*) | 260 (320*) | 400 (410*) |
| Sealing Force (N) | 5000 | 5000 | 8000 |
* - Gusset fold