Intermittent Motion End Load Cartoner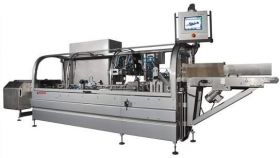 Compact and user friendly
The intermittently operating cartoning machine is designed to produce up to 85 cartons per minute. The machines compact and simple construction ensures rapid size changes and simple operation.
Hygiene, ergonomics and accessibility
To meet the hygienic design requirements, all the internal and components that are in contact with the product are made of stainless steel. At the customer's request, the frame is also available in stainless steel. In the construction of CMH-I, the greatest attention was paid to the ergonomic loading height of blank magazines and that the functionally relevant components are of solid construction. The compact design ensures optimized accessibility that is most important for fast and easy setup of the machine. You only need to open a single door on the operator side to gain access to all components of the machine.
Easily adapted to the product and quick change over
A change of size is a quick operation from the operator side and does not require tools. It can be augmented with half or fully automatic adjustments. Packing of soft bags and stacks of bags is supported by the optional product conditioner and upper guide. These units also ensure smooth processing when difficult products must be loaded
Boxes erection
A special feature of the machine are box erectors, which can be used to erect left or right handed boxes. The mirrored installation of two machines with a central operator console no longer presents a problem. The forced opening of the box reduces faults when boxes are erected.
Insertion and movement profiles
Dual insertion slots and automatic calculation of movement profiles for all drives ensure optimized slow movements. Thus, the machine operates smoothly and reliably.
Highlights
Trouble-free processing of critical folding box material due to forced box erection
The mirrored installation does not present problems
Decentral drives
Dual inserts available with upper guides.
Programmable 3-dimensional size change, 100% reproducible, reduces conversion times
Automatic calculation of all motion curves by means of an industrial PC with a touch screen, user friendly and reliable
Hygienic design
The CMH-I is standard in a 9" configuration but custom sizes are available.
| | |
| --- | --- |
| Spec | CMH-I* |
| Speed Max (CPM) | 85 |
| A (min-max) | 80 - 210 mm |
| B (min-max) | 20- 120 mm |
| H (min-max) | 110 - 300 mm |
* - standard 9" configuration. Custom sizes and production capacities on request.