Continuous Motion Vertical Bagger for Form/Fill/Seal of Powders
For basic - bag shapes such as flat bags and flat-bottom bags
With a convincing price / performance ratio
Proven machine technology, robust and reliable in production
High bag quality by a patented process for continuous bag manufacturing
Rovema P@ckControl touch-screen controller
The BVK basic can pack nearly an unlimited range of the most diverse products gently and safely in pillow bags or flat-bottom bags.
Depending on the product - lumpy, granular or powdery - a volumetric or auger feeder or a weigher completes the BVK basic.
Package Types: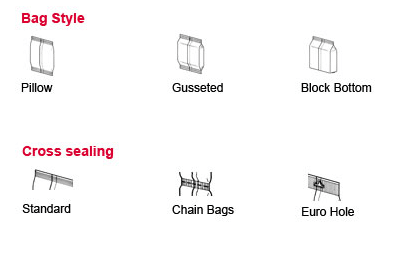 Budgetary Pricing:
Whether you're putting together plans for next year's budget or getting ready to order equipment, you'll need some accurate budget numbers. And we're guessing you probably want them promptly!
We can help. We'll turn around budgetary proposals within two working days if you complete the simple form below.
With an output performance of 120 bags/minute and format sizes ranging from 60mm to 260mm, the vertical continuous bagger BVK is the ideal basic machine model for standard - bag shapes such as pillow bags and flat-bottom bags.