The most flexible method of producing compact 'brick' packs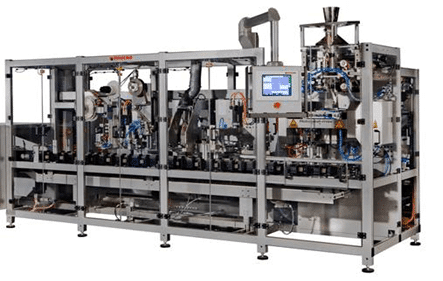 Block bottom bags with attractive and unique bag top styles.
The SBS Brick packaging machine, is a combination of form- fill- and seal technology and specialized top shaping systems for compact packs with a wide variety of closing, easy open and reseal options, perfect for market areas which demand a unique, convenient and aesthetically pleasing pack style for product differentiation at point of sale.
Highlights:
High flexibility by quick and simple format change
All functions executed as single stations to meet at short notice and cost-efficient future marketing requests
Standard integrated modem connection with the ROVEMA service center for online diagnosis and maintenance of control software
Can be equipped with applicators for reclosure features such as tin tie, clips and labels (oven 30 styles)
For production of optional flat bottom bags
Bag conditioning allows for most efficient bag size to reduce case sizes.
Key Industries:
Coffee, Pasta, Bakery, Detergents
Budgetary Pricing:
Whether you're putting together plans for next year's budget or getting ready to order equipment, you'll need some accurate budget numbers. And we're guessing you probably want them promptly!
We can help. We'll turn around budgetary proposals within two working days if you complete the simple form below.
The SBS 250 is available in two chassis sizes (80 & 120) for different package size formats.
| | | |
| --- | --- | --- |
| Spec | SBS 250 / 80 | SBS 250 / 120 |
| Speed Max (BPM) | 80 | 120 |
| Bag Width (min-max mm) | 40 - 155 | 40 - 155 |
| Bag Depth (min-max mm) | 30 - 95 | 30 - 95 |
| Bag Height (min-max mm) | 90 - 340 | 90 - 340 |
| Filling Volume (max) | 5000 | 5000 |
SBS 400 available for special large size bags