Use the following procedure to replace the cutting knife and the perforation knife.
At this point, the bagmaker should be locked-out and tagged-out.
Warning: Wear protective gloves when working with the shape cutting and perforation knives.
To replace the cutting knife:
1. Disconnect the cutting and perforation knife assembly air lines at the quick disconnects.
2. Manually pull the jaws to the fully open position.
3. Screw a 6 mm bolt into the air cylinder shaft of both knife assemblies.
4. Manually extend the cutting knife by pushing its bolt forward.
5. Manually retract the perforation knife by pull its bolt backward.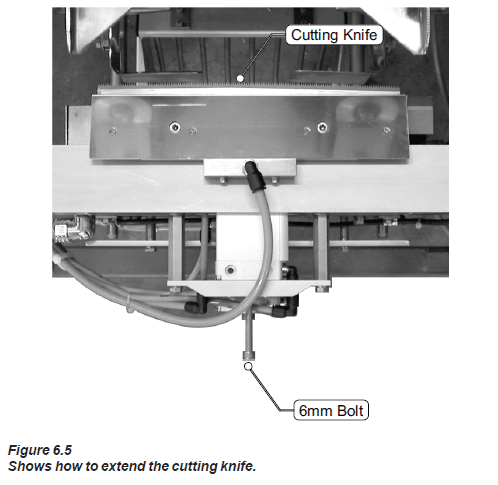 Replacing the Cutting and Perforation Knives
6. Locate the cutting knife securing bolt access hole under the front jaw assembly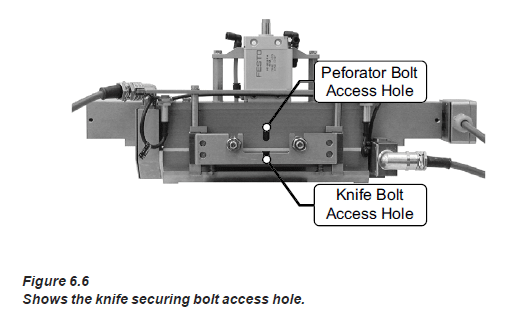 7. Loosen the knife bolt until the knife will slide out between the jaw sections and then remove it.
Warning: Use a pair of pliers to remove the knife and wear protective gloves.
8. Insert a new knife into the knife assembly; ensure that it goes in straight.
Warning: Use a pair of pliers to insert the knife and wear protective gloves.
9. Tighten the knife securing screw.
10. Use the same procedure to replace the perforation knife.
------------------------------------------------------------------------
More Rovema Support Options
See Additional Mechanical Articles
Looking for a manual for your Vertical Form Fill and Seal (VFFS) Bagger? Click here!