Removing and Replacing the Vertical Sealing Insert
If replacing the vertical sealing brass insert, the sealing band must first be removed.
1. Remove the sealing band as described in the article titled "Replacing the Sealing Band in a VPK."
2. Move the vertical sealing assembly towards the forming set to access the two securing screws.
3. Remove the brass insert by removing the two securing screws, shown below. Hold onto the brass insert before removing the last screw, as this will allow the insert to be released and possibly fall.
4. Install the new brass sealing insert and tighten the securing screws. (The sealing insert adjustment screws may be used to align the insert level against the forming tube, if necessary, or if the sealing insert becomes worn over time.)
5. Install the sealing band. Push up, on the release lever, and slide the sealing band over the upper and lower wheels. (Use Caution! Do not pinch fingers).
6. Verify that the band is in the center of the grooves on the upper and lower wheels.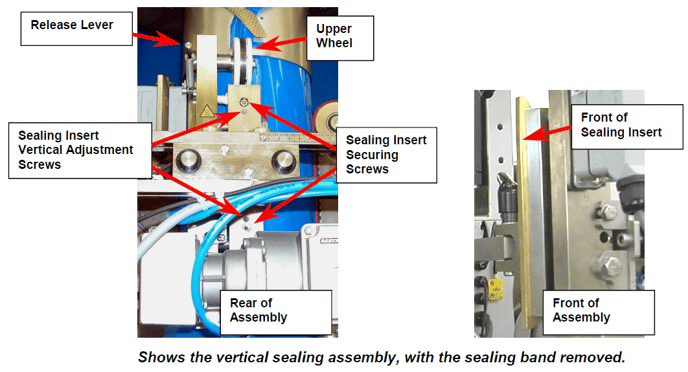 ------------------------------------------------------------------------
More Rovema Support Options
See Additional Mechanical Articles
Looking for a manual for your Vertical Form Fill and Seal (VFFS) Bagger? Click here!