What maintenance should you be performing on your bagger on a monthly basis?
Monthly maintenance consists of lubricating components of the horizontal sealing device. These components are the bearings that support the drawbars, and, the rails that guide the gusseting pneumatic cylinders.
Both the bearings and the rails are greased through grease nipples. The nipples for the inside and outside sections of the drawbars are located on the two grease manifolds (located just inside of the side access door and side guard door). Each gusset rail has a grease nipple located just above it.
You can use any brand name "No. 2 Food Grade" grease. Before injecting the grease into a nipple, follow its grease line to its destination. Continue injecting the grease until you see it just start to come out of the bearing onto its drawbar or onto its slide rail.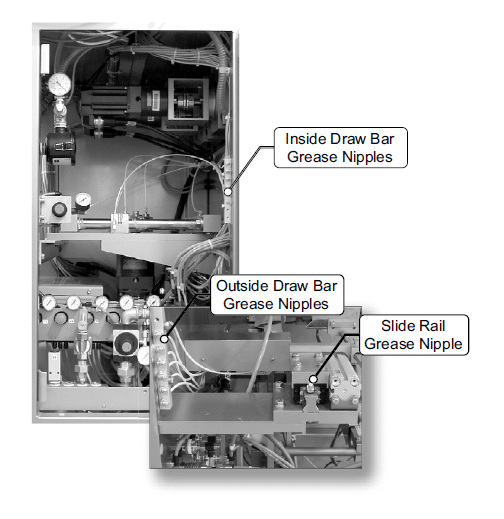 Figure 7.9
Shows the grease nipples used to lubricate the drawbars and the gusset rails.
------------------------------------------------------------------------
More Rovema Support Options
See Additional Mechanical Articles
Looking for a manual for your Vertical Form Fill and Seal (VFFS) Bagger? Click here!