Replacing the cutting knife.
When the cutting knife consistently fails to produce a crisp cut it is time to replace it. Use the
following procedure to replace the knife. Before starting this procedure, make sure that the
bag maker is locked-out.
To replace the knife:
1. Check that the jaws are in the fully open position.
2. Push the knife extender inward to extend the knife.
3. Locate the knife securing screw under the front jaw body.
4. Loosen the screw until the slotted knife can be removed from between the jaws.
Warning: Use a pair of pliers to remove the knife. Knives remain sharp and may cut
the operator.
5. Insert the new knife into the knife assembly.
Warning: Use a pair of pliers to install the new knife. New knives are extremely sharp.
6. Tighten the knife securing screw.
Extender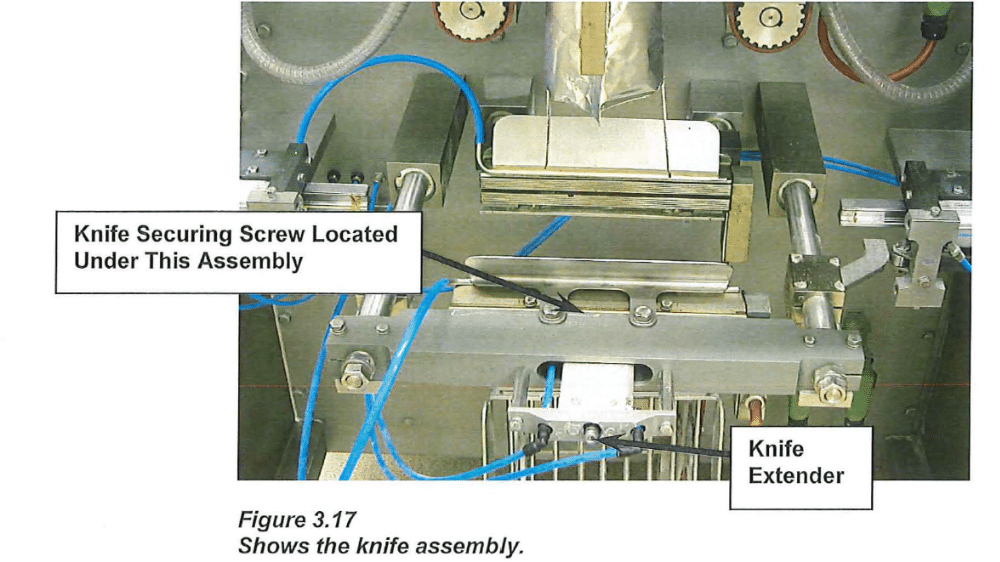 Knife Assembly
The knife assembly cuts the bags from the film tube. It is housed between the upper and lower sections of the front jaw assembly. When the sealing jaws close, the knife extends and cut through the film. The extend/retract movements are created by a pneumatic cylinder. The timing of the movements is controlled by cam settings on the touchscreen display.
Danger: The knife is very sharp and may cut the operator. Wear gloves and use proper tools while working on (or near) the knife assembly.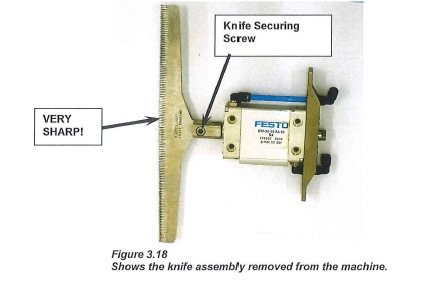 ------------------------------------------------------------------------
More Rovema Support Options
See Additional Mechanical Articles
Looking for a manual for your Vertical Form Fill and Seal (VFFS) Bagger? Click here!